True benefits of auto braking car tech finally revealed
Cars with Autonomous Emergency Braking fitted are 38 per cent less likely to have a rear-end shunt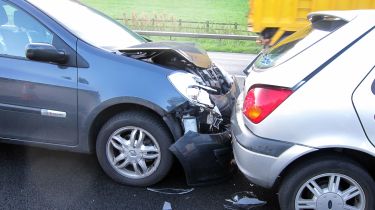 Fitting autonomous emergency braking (AEB) leads to a 38 per cent reduction in real-world rear-end crashes, a new report from two crash bodies has revealed.
Euro NCAP and ANCAP – the Australian equivalent – published the research which also showed that there is no significant difference between benefits in urban and rural crashes. It's the first evidence of the genuine advantages of the safety tech and demonstrates widespread fitmentis needed to achieve the best results.
The figures relate to the low-speed AEB option which normally consists of an automatic brake function that operates effectively at speeds up to 50km/h (31mph). It's estimated that 75 per cent of all accidents occur at lower speeds.
Euro NCAP already only hands out a five-star score to cars fitted with AEB and from next year, the crash tests will include AEB systems that recognise pedestrians.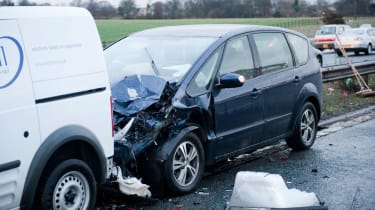 AEB will save you money on car insurance
AEB varies in price and name in the industry, with Ford offering Active City Stop, City Safety from Volvo and Volkswagen's City Emergency Braking. Prices start from £200.
And the Association of British Insurers (ABI) told Auto Express that paying out for AEB upfront would save you money on your premium as well as making your car safer. A spokesman said: "Insurers have believed for some time that AEB makes sufficient difference to car safety that it should be included as standard on all new cars. It has already been incorporated in insurance group ratings, meaning anyone having the system fitted to their cars should see a reduction in their motor insurance costs.
"The insurance premium benefit for individuals will vary depending on other factors to do with their car and driving history, but autonomous emergency braking makes vehicles safer and insurers recognise that when deciding premiums."
Government subsidy would boost uptake
Currently AEB is fitted as standard on just 10 per cent of new cars, while it's an option on around a quarter, but it's not available as a retro-fit option. Thatcham Research wants the Government to follow the lead of Sweden and Australia and incentivise AEB in both the private and fleet market to stimulate take-up of the tech on new cars.
Peter Shaw, chief executive of Thatcham Research, said: "Responsible drivers who are willing to pay extra to reduce the potential impact of their car should benefit from a helping hand from the Government – it's time to demonstrate to consumers that vehicles with AEB should be their natural choice.
"We estimate that an appropriate fiscal incentive would see 100 per cent of the UK new car fleet fitted with AEB by 2025, preventing many thousands of deaths, serious injuries and crash damage on our roads."
Do you have AEB fitted to your car? Tell us your thoughts on the technology in the comments section below...