Operation Stack: Government shelves plans for lorry park
Plans to ease Operation Stack congestion withdrawn as Department for Transport; judicial review cancelled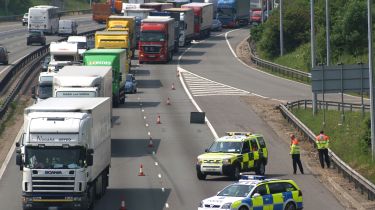 The Department for Transport has withdrawn plans for a lorry park by the M20, which was intended to ease congestion on the motorway when Operation Stack is enacted.
The planned 150-acre lorry park at Stanford, Kent was controversial from the outset, with local residents arguing the £250million scheme would have an adverse effect on the surrounding countryside. Concerns were also raised that the 3,600 lorries set to use the park would increase congestion and pollution.
Campaigners opposing the plans raised over £10,000 and mounted a judicial review into the park, which was due to take place in December. However, the DfT's announcement it was "was no longer defending" this review essentially shelves the Stanford park plans.
Roads Minister Jesse Norman said future plans could still involve a lorry park, though: "We know how seriously the lives of Kent residents and the prospects of businesses were affected when Operation Stack was implemented in 2015". Norman added that plans to combat Operation Stack congestion still "include a lorry park."
What is Operation Stack?
Operation Stack was first introduced in 1988 and is implemented by Kent Police and the Port of Dover whenever there is disruption to channel crossings either via cross-channel ferries or the channel tunnel. It involves shutting part of the coast-bound side of the M20 in Kent and parking – or "stacking" - lorries alongside it.
• UK paper driving licence axed: what it means for you
The M20 is closed in four phases to create up to 3,000 additional parking spaces for freight while cars and other vehicles are diverted onto the A20 which runs from Maidstone to Folkestone or the A2 from London to Dover via Canterbury. Neither route offers the same capacity as the M20 and huge traffic delays can result.
Why is Operation Stack used and how often?
Typical disruptions resulting in Operation Stack being implemented include poor weather making shipping dangerous, tunnel derailments, tunnel fires and industrial action by port staff. The most recent use of the traffic control procedure saw the M20 closed for 24 out of the 40 days from June 20th 2015, first due to striking workers and then as a result of immigrants causing chaos in Calais.
Between 1996 and the end of 2007, Operation Stack was implemented 95 times for a total of 145 days. It has been used intermittently since 2007 but rarely for more than a day or two at a time.
What is the cost of Operation Stack?
Calling on Operation Stack is an expensive option both in terms of policing and associated costs for delayed lorry deliveries, as well as for those caught up in queues on surrounding Kent roads. The M20 closures in the first three weeks of July 2015 alone cost haulage companies an estimated £700,000 a day and the UK economy £250 million in total.
• UK car tax: everything you need to know
For the everyday motorist trying to get down to Dover – which handles 90 per cent of freight traffic between the UK and mainland Europe – Operation Stack can also be a nightmare.
Is there an alternative to Operation Stack?
Kent only has 550 official parking spaces for HGV lorries and these are quickly filled when delays occur, making Operation Stack the only alternative. Other ideas have been suggested including Kent County Council buying land for an additional lorry park or Highways England introducing a contraflow system but Operation Stack is likely to remain the default soloution for the near future.
The best advice is to leave early or avoid the area altogether if Operation Stack is active but this obviously isn't an option for many motorists needing to cross the channel.
Have you been affected by Operation Stack? Tell us your stories in the comments section below...