Prosecutions for using mobile phones while driving down by half
The RAC is worried that court cases for mobile phone use are down when motorists report handheld phone use is on the up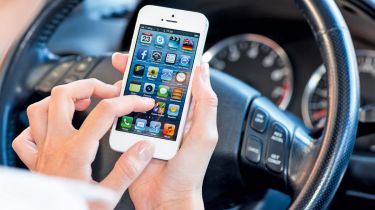 The number of drivers caught using mobile phones behind the wheel have halved over the last five years, according to figures seen by the RAC.
Prosecutions for mobile phone use are down by 47 per cent from 2009 to 2014 despite Department for Transport (DfT) research which shows drivers are using phones more than ever. The RAC says this highlights a worrying disparity between what motorists see on the road and what drivers are prosecuted for.
Prosecutions are recorded when a case reaches the courts. A motorist may be summoned to a magistrates' court if they ignore or choose to challenge a fixed penalty notice (FPN), if they already carry too many points, or if the offence is deemed too serious for a FPN.
• New website lets you check UK car mileage and MoT history online
FPNs, issued by police at the roadside, are a more common way of dealing with the offence but numbers of these issued have also fallen. Between 2011 and 2013, the number of FPNs issued for mobile phone use dropped by 57 per cent - from 123,100 to 52,400.
The DfT's last report on using mobile phones while driving was published in 2014 and showed an increase over the same stats from 2009. Mobile phone use is also increasingly a contributory factor in accidents in the UK – in 2014, 492 accidents were as a result of a driver using a phone, up 40 per cent on 2010.
• VW emissions scandal: latest news on EA 189 engine recalls
RAC head of external affairs, Pete Williams, said: "There is still an enormous gulf between what the law states – that handheld mobile phones should not be used behind the wheel – and what motorists see happening on our roads. Drivers are routinely using their phones at red traffic lights, or even while on the move.
"We have already highlighted the large reductions in the numbers of full-time roads policing officers affecting many police forces. On average across the country there was a 23 per cent cut between 2010 and 2014 – meaning there are 1,279 fewer officers patrolling our roads. Sadly, therefore, there are now far fewer police to enforce a law that is designed to protect all road users and pedestrians."
Do you see motorists using their handheld phones while driving? Let us know in the comments section below...