Driving in rain and snow could affect your car insurance costs
New black box tech will mean weather on a journey can stop drivers scoring full marks and receiving discounts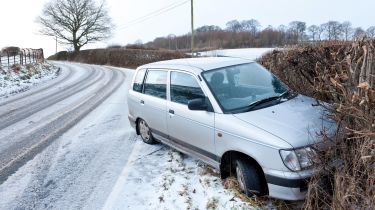 Rain, snow and hail on a journey could all see drivers paying higher premiums using the latest black box technology, according to a leading telematics firm.
Octo Telematics - one of the largest global in-car telematics companies - has announced a partnership with a weather forecaster that'll see journey weather conditions play a part in usage based insurance driver analysis.
• Postcode lottery over cost of driver awareness courses
The Octo U app from Octo Telematics can now use data from The Weather Company (an American equivalent to the UK Met Office) to create a "scoring algorithm" that assesses the conditions during a driver's journey.
It'll be calculated alongside speed, braking and acceleration in order to score a driver based on their risk. Ice, rain, hail and snow would all be seen as additional risks because drivers are more likely to have an accident in these conditions, the firm said.
• Horses licked my car's paint off! Animals costing car insurers £1m a year
While premiums won't be hiked for bad scores influenced by weather, the worst drivers wouldn't be able to benefit from black box discounts. The Octo U app is linked to a panel of insurers who offer quotes for the driver profiles - the best drivers can receive discounts of up to 30 per cent.
A range of top insurers - such as AXA, Direct Line and Admiral - all use black boxes to offer lower premiums. It's particularly effective for drivers aged up to 25. Usage based insurance such as this is expected to be used by 36 per cent of all insurers by 2020.
• Vauxhall Zafira fires: owners should contact their dealer
Fabio Sbianchi, CEO of Octo Telematics, told the Daily Telegraph: "Until recently, insurers have had difficulty creating unique profiles on which to offer auto insurance for individuals.
"By integrating weather data from IBM and The Weather Company with other data streams, we're able to digest real-time information on road conditions and get a better view of driving habits."
Tell us your thoughts about this new black box insurance tech in the comments section below...