Horses licked my car's paint off! Animals costing car insurers £1m a year
The 12 horses that licked a car's paint off, a stampeding cow and the other odd animal incidents costing UK car insurers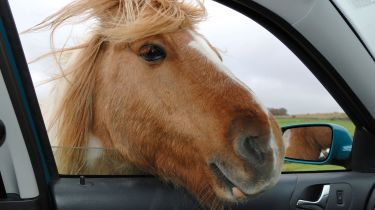 Hungry horses, crazy cattle and daring ducks have cost the insurance industry more than £1million over the past year, according to Saga. The over-50s specialist insurer said it had dealt with more than 500 animal-related cases in 2014, with some incidents more bizarre than others.
One customer had parked up at the Dartmoor National Park in Devon before going on a hike. When he returned, he found 12 horses had taken a shine to his car and were licking off the paintwork – the subsequent repair cost £1,200.
Another case was due to a cow at a prize-winning cattle show making a run for freedom. It uprooted the post it was attached to, dragged it through the car park and inflicted £800 worth of damage. A low-flying duck caused a motorist to swerve into a stone bridge – settled at £1,500 – while a cat under a bonnet damaged an engine, setting the insurer back £4,000.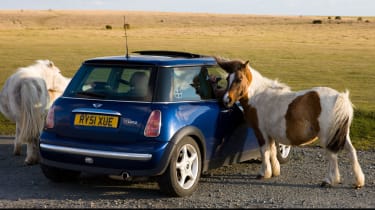 One driver was left ruing his country drive after he slammed on the brakes to avoid a deer, only to be smashed into by another stag, landing a £2,000 bill. Roger Ramsden, chief executive of Saga Services, commented: "It seems that just about anything can send a road trip into turmoil, and the over-50s have to have their wits about them when they're in the driver's seat.
• VW emissions scandal: everything you need to know 
"We understand that some things are out of our customers' control, and they can't predict when they may face low- flying ducks or wild deer darting across the road."
Has your car ever been damaged by rogue wildlife? Tell us all about it in the comments section below...