Skills shortfall for UK's automotive industry
Automotive Council reports highlights productivity of UK industry but there's a lack of R&D investment and skilled engineers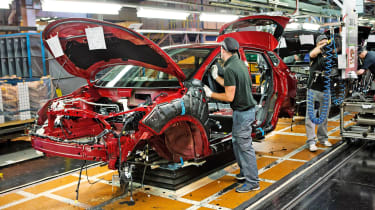 The UK's automotive workforce is the most productive in Europe but is lagging behind in research and development investment and skilled engineers, according to a new study.
The new report by the Automotive Council shows that at almost €100,000 per employee annually, the UK has the highest labour productivity of all major EU automotive producers - ahead even of Germany. It's an increasing trend for the UK over the last decade.
Recent major developments include Jaguar Land Rover's new Ingenium engine plant in Wolverhampton; the Advanced Propulsion Centre (APC) at the University of Warwick; the two-millionth Nissan Qashqai built in Sunderland; and Bentley in Crewe becoming the global centre of excellence for Volkswagen Group W12 engines.
However the impressive productivity numbers, are covering up a shortfall in R&D investment and the number of skilled engineers on offer. The report ranks the UK 13th out of 24 countries for Government investment in the sector. Top performing countries like the USA, Germany or South Korea spend between 0.8 per cent and 1.0 per cent of their GDP on R&D. Almost twice the UK spend of just 0.5 per cent.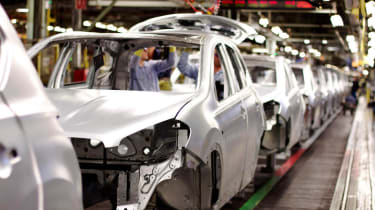 The money the UK does spend pays off, though. For every £1 of Government investment there's £6 of value added. While the lack of R&D investment may stop the UK manufacturers remaining competitive, the lack of skilled workers is just as detrimental.
The total graduates from STEM (Science, Technology, Engineering and Mathematics) subjects is just "better than average" in the EU. If you look just at engineering, manufacturing and construction graduates, though, the situation gets worse - the UK ranks 14th out of 17 countries recorded.
When the UK does get graduates involved, however, it has a great reputation for building links between universities and industry. Alongside the US, the UK ranks as the best at this kind of collaboration in the world.
Tony Walker, chair of the Automotive Council's business environment and skills group, and deputy managing director, Toyota Motor Manufacturing UK, said, "It is great to see further evidence of Britain's strengths in its world-class automotive manufacturing workforce – and while there are clear areas for improvement, this report provides the basis for these to be addressed in the coming months and years.
What do you think the UK car industry should do to address the skills shortage? Let us know in the comments section...