British-built Nissan Qashqai smashes two million mark
Sunderland-built Nissan Qashqai crossover reaches British production milestone faster than Mini or Ford Fiesta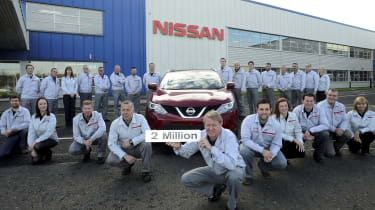 The Nissan Qashqai has clocked up two million units in just eight years of production. It's a milestone that puts the crossover in the record books as it's now the fastest British-built car to reach the two million models produced mark.
The Sunderland-built car has reached the landmark figure in just eight years, beating some of the most famous British cars ever made. It took 10 years for the original Mini and the new MINI to each clock up two million units, 11 years for the Ford Cortina, 12 years for the Austin 1100, 14 years for Ford's Escort and the Ford Fiesta passed the mark in 18 years.
• Best 4x4s and SUVs to buy now
The two millionth Qashqai to roll off the production line was a magnetic red model in the new n-tec grade which is destined for a UK customer. Paul Willcox, Chairman, Nissan Europe, said: "The Qashqai is helping Nissan to go from strength to strength in Europe. Two million customers can't be wrong. This is further evidence of their trust in our brand. Thank you to all of our loyal customers and I congratulate all my colleagues in Sunderland for reaching this latest milestone."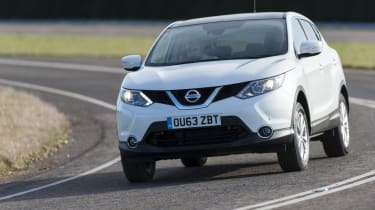 Over the years, the Japanese company has invested £534 million in the Qashqai. And of the two million Qashqais made in Sunderland since December 2006, 85 per cent (1,706,633) have been exported to 132 international markets, from the Congo to Qatar.
UK Secretary of State for Business, Innovation and Skills, the Rt Hon Dr Vince Cable MP, said: "Nissan is one of the driving forces behind the UK's world-renowned automotive industry. They currently employ more than 11,000 people across the UK and have invested more than £500m in the innovation, design and production of this car, directly supporting the local and national economies. The UK automotive industry is thriving. Last year, we increased our production to more than 1.5 million cars in the UK - that's a car rolling off the production line every 20 seconds."
Total global production of the Qashqai now tops 2.5 million, with the first generation Qashqai also made by Nissan in China and Japan. From 2015 the new Qashqai will also be manufactured in Nissan's plant in St. Petersburg for domestic sales in Russia.
The new milestone also means the Nissan Micra supermini will have to start looking over its shoulder, as the Qashqai is now closing in on taking the honour of the highest volume car in the history of the Nissan Sunderland Plant. More than 2.3 million Micras were made in Sunderland over an 18-year period from 1992 to 2010.
How good is the Nissan Qashqai? Find out with our round-up of the top 10 best crossovers in the UK