4,500 miles of the UK road network have no mobile coverage
Drivers breaking down on around two per cent of Britain's road network would have no signal to call emergency services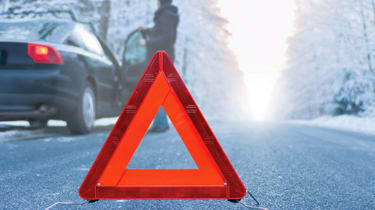 Drivers breaking down on over 4,500 miles of road in the UK would not be able to call emergency services, as these stretches of road have no mobile phone coverage, a new study has found.
The study by the RAC Foundation found around two per cent of the British road network is not covered by any mobile network provider. These stretches of road are found in 49 different local authority areas and equate to a total of 4,561 miles where drivers in need of assistance would find their mobiles without 2G signal - the minimum coverage needed to make a phone call.
Motorists in the Scottish Highlands, especially around the A93, have the lowest access to mobile coverage, as 452 miles of road in the Highlands come with no network coverage. The second worst region in the UK for roads with no signal is Powys, mid-Wales, where stretches of road totalling 437 miles have no signal.
• Real world car emissions data to be available from 2016
While remote regions are a likely dead spot for mobile signal, more populated areas like North Yorkshire also feature roads that have no signal for hundreds of miles. The study also found around 12 per cent of British roads only offer partial network coverage.
Those using their mobile phones for navigation purposes with the help of 3G will also be disappointed to find that over 14,500 miles of road come with no 3G signal, severely hampering any navigation efforts. This number accounts to 6 per cent of all the roads in Britain, while a further 45 per cent of the road network only offer partial 3G coverage.
• Penalty points cost motorists £132m in car insurance premiums
RAC Foundation director Steve Gooding, said: "There are thousands of miles of road along which you would not want to break down or have an accident because calling emergency services or even home wouldn't be an option"
He also said: "The concepts of connected cars and drivers is at the heart of much thinking about how we might make our travelling lives easier. But the best ideas in the world will fall at the first hurdle if there are no bars on the phone."
| | |
| --- | --- |
| Region | Miles of road with no coverage |
| Highland | 452 miles |
| Powys | 437 miles |
| Argyll & Bute | 293 miles |
| Cumbria | 252 miles |
| Devon | 243 miles |
| Dumfries & Galloway | 237 miles |
| North Yorkshire | 231 miles |
| Scottish Borders | 226 miles |
| Gwynedd | 172 miles |
| Ceredigion | 156 miles |
Have you ever broken down with no signal to call for help? Tell us in the comments below...