UK car journey data stored for two years, but is it legal?
Uk's network of numberplate recognition cameras lets the government store your journey data for up to two years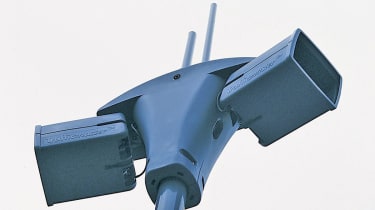 Over 350 images of motorists are captured every second by automatic number plate recognition (ANPR) cameras in the UK, yet a Government surveillance expert says the laws surrounding the mass-surveillance technology are "extremely unsteady."
Speaking at Stirling University, UK Surveillance Camera Commissioner Tony Porter said there has been an unprecedented increase in surveillance technology, but the legal framework is having to play catch-up with the tech.
Data collected by ANPR cameras is secured under the Data Protection Act, but it remains within the database for up to two years – meaning the travel histories and patterns of motorists are monitored and stored over that period.
• 4,500 miles of the UK road network have no mobile coverage
At present, around 8,300 ANPR cameras capture roughly 25 to 35 million readings each day, recording them in the National ANPR Data Centre (NADC). Yet Porter questions whether the use of ANPR cameras is actually legal, he said: "The use of automatic number plate recognition (ANPR) cameras has an extremely unsteady legal framework. There is an argument that article 8 of the European Convention on Human Rights refers to the qualified privilege regarding interference into a person's privacy by lawful use. Because there is no law that enables ANPR, does that make the use unlawful?"
Porter went on to say that: "I am not 100% clear on this and when I've spoken to the Home Office they've informed me that ANPR is just another tool in the policing toolkit and so does not require a statutory authority"
• Real world car emissions data to be available from 2016
While ANPRs have been successful in catching vehicle thieves – eight vehicles worth £150,000 were recovered in one London borough through the use of ANPRs alone – the UK's surveillance system is still not standardised across the board, as Porter points out; "only around two to three per cent of all local authorities in England and Wales comply with any recognised British standard."
ANPRs aren't only questionable from a legal standpoint, as earlier in the year, Auto Express put their functionality to the question by revealing how the newly built ANPR camera system on the M25 Dartford Crossing incorrectly charged tens of thousands of motorists. In some instances motorists who had never even crossed the bridge were sent fines for non-payment of the charge.
Porter asks whether storing private information from motorists is something the public ever agreed to: "We are living in a society where our every movement is tracked not just by cameras but by numerous devices and methods. If the goal of modern day surveillance is to keep us safe from terrorist extremists, organised criminals and yobs on our streets who gave consent for this? Did you? I don't remember giving mine."
And whether it is something the public should agree to: "Is it necessary or proportionate to retain the data of innocent citizens for the current retention period of two years?"
What do you think of your journey data being stored by the Government for for up to two years? Let us know in the commnets section below...