UK motor industry turns to Europe for top talent
Skills gap in UK leads manufacturers to head to continent for skilled engineers, claims SMMT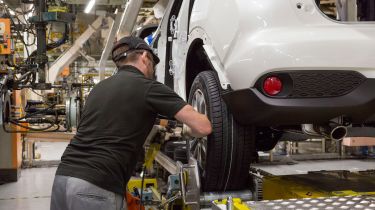 Britain's motor manufacturing industry is admitting that it's increasingly turning to mainland Europe to identify and entice engineers who can't be found on home soil.
"There's a skills gap," says Mike Hawes, chief executive of the Society of Motor Manufacturers and Traders (SMMT) which represents vehicle and component makers in the UK.
"Every manufacturer here is trying to attract talent. And they're scouring Europe to fill the gaps. In Britain, there's a real shortage of production engineers, for example."
• Car manufacturing in the UK hits a ten-year high
Even many secure, well-paid, semi-skilled positions at UK-based component firms are being largely filled by workers from the European mainland, as their counterparts in Britain seem unable or unwilling to take up such jobs.
Gareth Jones, managing director of Pritex, the Somerset-based manufacturer of automotive insulation products, told Auto Express: "Around one per cent of our workers used to be non-UK. Now the majority of our workers are from the EU."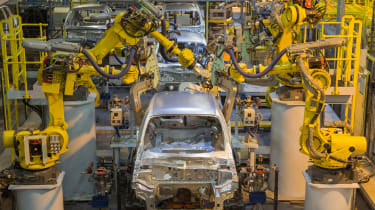 The apparent availability of semi-skilled, skilled, and highly-skilled workers from the European Union to fill vacant automotive positions in UK has been a godsend for British-based vehicle and component manufacturers.
And such employees and employers are on course to help Britain reach and exceed the 2m million cars a year production milestone by 2022 - precisely half a century after the the previous record high figure of 1.9 million was reached in 1972.
But the SMMT's great fear is that if the imminent EU referendum leads to Britain exiting the European Union, it could be significantly harder for British manufacturers to recruit staff from Continental Europe.
And there could be questions marks over additional foreign investment in British factories, argues Mike Hawes. That's why the SMMT is currently polling its members on the thorny subject of Britain breaking away from the rest of Europe. His prediction to Auto Express is that around 90 of automotive firms in Britain will want to stay in the EU, with the remaining 10 per cent willing to leave.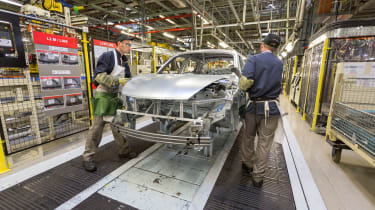 Hawes adds: "Surely it's better for the UK to have a seat at the [EU] negotiating table when it comes to matters such as vehicle and other regulations, free movement of people, access to overseas labour etc.
"From a business perspective it's important to be in rather than out."
But if Britain's electorate does vote to exit?
"There will be no mass exodus from Britain of motor manufacturing plants," Hawes admits. "They wouldn't shut up shop. But they'd need to adapt. And there will be deeper discussions over their next rounds of investment in the UK."
What do you think about the current state of the UK car industry? Let us know in the comments below!