White line lane markings could be axed from UK roads
New trials show that motorists slow down more on busy streets as a result of councils removing white lines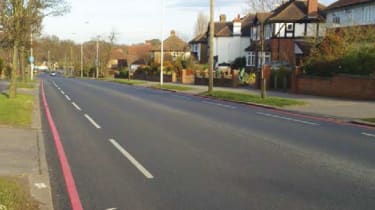 Lane markings on busy streets could soon become a thing of the past, as councils look to slow motorists down by new means.
Transport for London (TfL) has already been experimenting with removing central lane markings on busy streets around Croydon and Haringey, and studies show average speeds have fallen by 13 per cent as a result. In some instances motorists slowed down by more than 8mph when their speeds were compared with data from before the lane markings were removed. 
• UK diesel and petrol prices: have fuel prices bottomed out?
Fewer markings on the road is said to improve safety by making drivers more cautious and aware of their surroundings. A decrease in average speeds of just one mile per hour is associated with approximately a five per cent reduction in accident frequency, TfL argue.
Similar schemes can be found across the country, with Norfolk, Wiltshire and Derby councils all removing centre white lines from specific roads.
Tracy Jessop, Assistant Director, Highways and Transport for Norfolk Country council said: "We've been removing centre white lines for at least 15 years in locations that have the right characteristics and where there is community support." 
Remove white lines? Don't do it!
But not everyone agrees with the idea, Paul Watters, head of roads policy at the AA said: "Without exaggeration it is true to say that a simple pot of paint can save lives. In particular, highly visible markings at the edge and centre of the road that can be seen on a wet night are enormously cost-effective in saving lives."
• New accelerator pedal saves fuel by pushing back
Alan Bristow, Director of Road Space Management at TfL said: "The results [from the trial] were positive and the trial sites are monitored closely to understand the longer term effects, and we will take account of the findings of this research in the development of future schemes." 
However, he also added: "There are no plans for any widespread removal of road markings." 
Do you think removing lane markings is a good idea? Tell us in the comments below...