Government to tackle fuel theft from filling station forecourts
Fuel retailers, suppliers and police join forces to tackle rising problem of motorists driving off without paying for fuel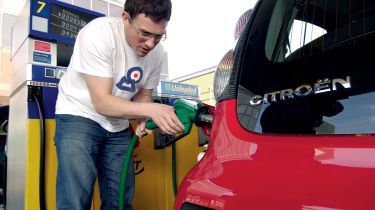 Major fuel retailers, suppliers and police will join forces under a new Government scheme to tackle the growing problem of motorists driving off without paying for fuel.
In the year ending September 2015, there were more than 62,300 incidents of drivers making off without payment recorded by the police, a 10 per cent increase on the previous year that is costing businesses millions each year.
The British Oil Security Syndicate (BOSS) estimates industry losses from forecourt crime amounted to almost £22 million in 2014-15. This is the direct financial loss, and does not include costs associated with staff having to deal with the aftermath of the crime.
• UK petrol and diesel prices: everything you need to know
Fuel retailers also reported losses when people fill up but find they have no means of paying - this amounted to £9.7m in 2014-15. While in most cases the person pays for the fuel later, it's estimated 25 per cent don't and these cases must be pursued through debt collection agencies.
The new Steering Group on Forecourt Crime will help a better flow of information between relevant groups and look at what works best in preventing the offence which is a crime under the Theft Act 1978. It will also look at the technology available to tackle the issue including CCTV plus draft a document to set out a how businesses and police can work together better.
Minister for Preventing Abuse, Exploitation and Crime Karen Bradley said: "Theft from forecourts causes huge damage to businesses. This Government is committed to working with industry and police to tackle those crimes, and to limit the opportunities for offenders to commit them in the first place.
"We expect police forces to investigate all crimes, and we encourage retailers to report all crimes to improve understanding of the extent of the problem."
Have you ever seen a motorist drive off without paying for petrol? Let us know in the comments section...