French fuel crisis: one British motorist running out of fuel every nine minutes
A quarter of France's fuel stations are running low on fuel, causing Brits traveling in the country to run on fumes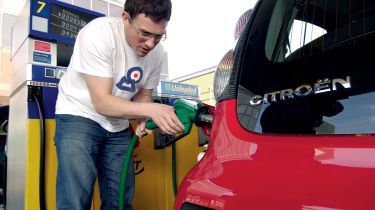 According to new research, British motorists travelling in France are calling breakdown providers every nine minutes after running out of fuel. The mounting problem is a consequence of the on-going fuel crisis in the country.
With the continued fuel shortage affecting France, breakdown provider Green Flag has revealed it is responding to 14 per cent more fuel related breakdowns than normal. It is also predicting a 53 per cent rise in breakdowns from motorists travelling in France ahead of the bank holiday weekend.
With over 40 per cent of fuel stations in France now affected by the fuel shortage, motorists have been hit with war-time rations on fuel, with most limits capped at 20-litres.
Candace Gerlach spokesperson at Green Flag, said: "With limited supplies of fuel available, those planning their trip to France will need to plan their journey carefully and think about fuel economy. While there is some fuel available, the amount being distributed is being limited per driver. 
"For those drivers that have a long journey ahead it's worth keeping to roads were there are plenty of fuel stations along the route. Anyone contemplating carrying extra fuel in their vehicle should check with their ferry company or Eurostar before their journey."
What is the French fuel crisis? 
Nearly a quarter of France's 12,000 fuel stations are now running on low or very low on fuel, after trade unions and the government locked horns. The CGT trade union is protesting against new labour reforms, and has organised blockades around oil refineries and depots, restricting supply to fuel stations around the country.
Five out of eight of the country's refineries have been blocked by strike action, though the government has promised to clear the roads in the coming days.
CGT leader Philippe Martinez has said the protests will continue until the labour legislation, which the CGT says favours businesses over workers, is withdrawn.   
Are you worried about the French fuel crisis? Let us know in the comments section below...