Report links child car seats to breathing problems in newborn babies
A new study found newborn babies can develop breathing difficulties when travelling in child seats on long journeys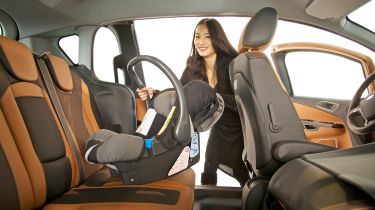 Parents have been warned not to travel in cars with children under four weeks old for more than 30 minutes, after a new study found the upright seating position from child seats can cause breathing problems in newborn babies.
The study of 40 newborns found that the upright seating position in children's car seats increased the babies' heart and breathing rates, and their blood oxygen levels were lower compared with when they were lying flat in a cot. The study was conducted by the Great Western Hospitals NHS Foundation Trust, along with the University of Bristol and the University of Southampton.
The study involved 21 premature infants and 19 full term babies. The experiment used a simulator designed to reproduce road vibrations through a child seat in a car travelling at 30mph. The babies heart rates, blood oxygen levels, and carbon dioxide levels breathing in and out were monitored while spending 30 minutes in three different seating positions.
When the babies were angled at a 40-degree position they were found to have significantly higher heart and breathing rates and lower blood oxygen levels than those at 30-degree positions. Because the babies' neck muscles haven't fully developed, an upright seating position can make it harder for them to support their head, causing breathing difficulties.
• UK child booster seat and baby car seat laws explained
Car seats are used for infants from birth up all the way up to 36kg in weight, but some seats may be too big to secure low birthweight or preterm babies who weigh less than 2.5kg. And though manufacturers advice a baby shouldn't be kept in a car seat for more than two hours, the paediatrician behind the study said there should be separate advice for very young babies.
Professor Peter Fleming, professor of infant health and developmental physiology at the University of Bristol, told the BBC: "If you can avoid a long journey, it's better to do so. Try to avoid unnecessary car journeys for young babies."
Dr Renu Arya, consultant paediatrician at Great Western Hospitals NHS Foundation Trust, who led the research, said: "Parents should not stop using car safety seats to transport their infants. Infants must be protected in moving vehicles, and UK law requires car seats be used whenever infants travel in cars."
Should parents stop driving for long periods with newborn babies in the car? Tell us what you think in the comments below...