Autumn Statement 2016: Road projects, fuel duty, insurance
Traffic pinch points targeted by new chancellor Philip Hammond in 2016 Autumn Statement, the first since Brexit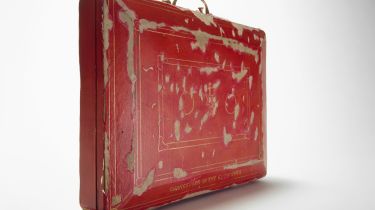 There was good and bad news for motorists as new Chancellor Philip Hammond announced his first Autumn Statement – the first since June's Brexit vote.
Hammond's focus was on increasing productivity in the UK by backing transport projects and investing more in research and development for future technologies.
The Chancellor said: "[The Government is] investing today for the economy of the future. Families rely on roads, rail and telecommunications. There is additional funding to help keep Britain moving."
• Company car tax guide 2016/2017
Hammond said he wants to close the productivity gap with rival nations, as the UK currently lags behind Germany by 30 per cent and France by more than 20 per cent.
He added: "In the real world, it takes a German worker four days to produce what we make in five; which means, in turn, that too many British workers work longer hours for lower pay than their counterparts."
From new road projects to network trials for a new 5G phone network, insurance premiums to fuel duty, we've roundedup the top five concerns for motorists, and what the experts had to say...
Road infrastructure funding
In total, £1.1billion will be invested in transport projects with £220million set aside specifically to target traffic pinch points on motorways and A-roads across the UK.
Further money was also committed by Hammond to support regional cities and local road schemes, such as the Oxford-Cambridge Expressway, all aimed at increasing productivity.
Sue Robinson, National Franchised Dealer Association director, said: "This is essential as it will make UK business more productive and assist consumers by making roads safer.
"The reduction in congestion will also improve journey times, which will benefit the UK economy, particularly the commercial vehicle sector."
• Best company car for your budget
Insurance Premium Tax hike
Despite promises to clamp down on whiplash injury claims which could help save motorists around £40 a year on premiums, Hammond announced he would be raising Insurance Premium Tax (IPT), which is likely to offset any savings made.
In June 2017, IPT will increase from 10 per cent to 12 per cent, having stood at just six per cent back in 2015.
The British Insurance Brokers' Association (BIBA) had called for IPT to be scrapped for telematics policies to help young drivers get mobile, and said this latest rise was "outrageous".
Steve White, BIBA chief executive, added: "This is a tax on protection which will hit everyone and especially those just about managing."
Fuel duty freeze
A proposed rise in fuel duty was scrapped for the seventh consecutive time – the longest freeze in this area for 40 years.
Tax on petrol and diesel remains at 57.95p per litre, and represents a £850million tax break, saving the average motorist £130 a year and van drivers £350 per year. In 2016, the freeze helped boost GDP by 0.7 per cent and generated an estimated 112,000 new jobs.
RAC fuel spokesman Simon Williams said: "The decision to extend the freeze shows that Mr Hammond understands motorists are the backbone of the British economy.
"It is vital in such uncertain times that the Government can give as much certainty to them as possible."
Company cars targeted
The majority of salary sacrifice schemes are to be scrapped, with Hammond branding them "unfair". The Chancellor did exempt ultra-low emission vehicles from the changes in a bid to encourage employers to offer these cars to workers.
But British Vehicle Rental and Leasing Association chief executive Gerry Keaney said: "These tax changes could deter many employees from choosing a modern, safer, cleaner company-provided vehicle and instead opt for an older, dirtier and more dangerous private purchase.
"The Government has set a very ambitious implementation date of April 2017, which gives providers and employers very little time to prepare."
Future technology investment
Millions of pounds will be invested in future technology and R&D. There will be £390million for testing driverless cars and installing charging points, and 100 per cent funding for firms fitting charging points at workplaces. A further £1billion will fund 5G network trials – a system that will be vital for the roll-out of autonomous tech.
• BMW, Ford, VW and others to create vast European EV charging network
AA president Edmund King said: "The improvements to infrastructure and innovation are overdue. This investment will be a good catalyst for future development."
Mike Hawes, SMMT chief executive, added: "This commitment will help to promote this next-generation technology, which has the potential to transform and save lives."
What do you think of the first Autumn Statement since Brexit? Let us know below...