Insurers pay out a record-high £28.6 million a day in claims
According to figures by the ABI, the average cost of car repairs has gone up by 25 per cent in the last three years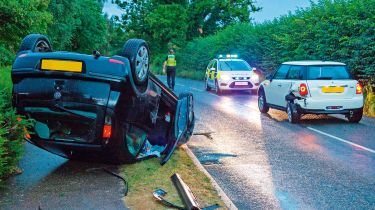 Insurers have paid out £28.6 million a day in claims this year, the highest number on record, according to new figures from the Association of British Insurers.
Surprisingly, the £10.4 billion total comes at a time of falling road accidents and car thefts – accidents have fallen by 5 per cent from last year, with thefts down by 11 per cent compared to five years ago.
Instead, the ABI says rising costs of car repairs are to blame. Speaking to Auto Express, a spokesman for ABI said: "We've seen the average cost of car repair go up by 25 per cent in the last year."
With new cars featuring more tech and gadgets, the association says the average repair bill following an accident has surged. The rising repair bills also equate to higher insurance premiums. The ABI estimates the average cost of a comprehensive insurance policy has gone up by nine per cent from last year to £434.
• Only a fraction of UK technicians qualified to work on electric cars
And with the Government announcing another insurance premium tax (IPT) increase from 10 to 12 per cent in its latest Autumn statement, motorists should brace for even higher premiums next year.
The ABI spokesman insisted that 99 per cent of all claims made in the UK resulted in a payout, with the other one per cent representing fraud. He said "However, fraud is still an issue we take seriously. This is why we are doing all we can to make sure we can reduce insurance costs across the sector."
The Ministry of Justice recently launched a consultation into whiplash claims, which have gone up by 50 per cent in the last decade. The clampdown on fraudulent claims should save £40 off the average cost of car insurance with insurers looking to pass 100 per cent of the savings back to consumers.
Has your insurance premium gone up in the last few years? Tell us in the comments below...