Electric cars and infrastructure in need of bigger boost, says SMMT
Though electric car sales are soaring in the UK, more must be done to make them cheaper and easier to charge, says industry body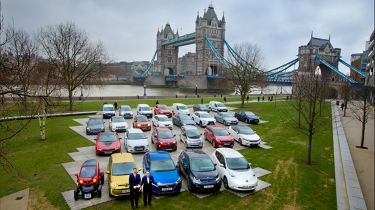 Carmakers and the Government must do more to make electric and plug-in cars cheaper to buy and easier to charge says the Society of Motor Manufacturers and Traders (SMMT). This comes after a new study found that the lack of charging infrastructure and high prices are putting off potential buyers.
According to research by YouGov, commissioned on behalf of the SMMT, 51 per cent of UK adults are keen to buy an electric car to save on their fuel bills, but just 13 per cent actually have one on their shopping list.
Nearly half of the respondents said they were put off buying an electric car as they were worried about the lack of charging points near their home or at work, while another 41 per cent said they couldn't afford the higher purchase price.
Auto Express previously highlighted how the UK's public charging infrastructure is in need of a vital zap to help keep up with growing EV uptake.
Electric and plug-in car ownership has soared from 2,254 vehicles in 2012 to 85,983 at the end of 2016. However, the number of charging points in the UK has only increased from 2,883 in 1,287 locations to 11,736 in 4,243 locations during the same period.
• Best electric cars on sale 2017
The ratio of EVs to chargers has grown from 0.78 to 7.32 in just four years, according to data obtained by charge point database Zap-Map. The European Parliament has said for EVs to become commercially viable, there has to be at least one charger for every 10 cars on the road.
The Government has announced a £600million boost to promote the uptake of electric and plug-in vehicles, but SMMT chief executive Mike Hawes said that "more must be done to boost buyer confidence," in the technologies.
Hawes added: "A consistent approach to incentives – fiscal and otherwise – and, most importantly, greater investment in the charging network is essential if we are to grow this emerging market."
To showcase the breadth of choice currently available for low emissions car buyers, the SMMT has set up a special display against the backdrop of London Tower Bridge with 26 vehicles from 16 different brands.
Would you buy an electric car as your next vehicle? Tell us in the comments below...