Government promises to crack down on dodgy parking firms
Communities Secretary vows to back bill outlawing "unscrupulous and aggressive" parking companies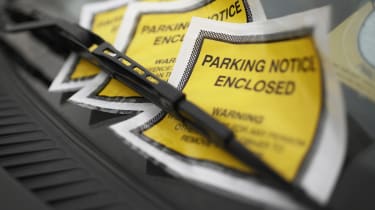 Private parking firms that operate in dubious manners may soon be effectively outlawed, following an announcement in the House of Commons by Communities Secretary Sajid Javid that he would back a new bill calling for their regulation.
Javid told the Commons why he was backing the bill: "For too long, drivers have suffered from unjust fines at the hands of dodgy parking firms". He also promised "fair, clear and consistent" regulation of parking firms in the future.
• How to appeal a parking ticket online
Almost 10,000 people went to Citizens Advice last year for guidance on parking tickets, with private firms accused of issuing tickets to drivers overstaying by a couple of minutes, handing out penalties even when meter machines are out of order, and erecting inadequate signage warning of rules, charges and penalties.
Javid explained such practices meant a change in the parking industry was needed: "Government is putting the brakes on these rogue operators and backing new laws that will put a stop to aggressive behaviour and provide a simpler way for drivers to appeal fines."
The Parking (Code of Practice) Bill would see firms forced to sign up to a new code of practice, losing the ability to access drivers' records from the Driver and Vehicle Licencing Agency (DVLA) if they fail to meet the proposed standards, rendering them unable to issue fines and operate.
The code would require parking firms to operate and manage their car parks well, drawing up clear guidance should motorists want to appeal parking charges. Parking firms would also need to pay a levy to fund industry regulation.
• Two-thirds of drivers avoid ay-by-phone parking bays
Steve Gooding, director of the RAC Foundation, welcomed the bill, saying it would bring: "some much-needed regulatory rigour to the world of private parking".
Gooding added that: "Drivers don't want a parking free-for-all, but they do want a system that is fair to all parties and that's what a code of practice set by the government - rather than the industry itself - should bring about."
The proposed regulations were originally tabled by MP Sir Greg Knight as a Private Member's Bill in the summer of 2017, and are due for their second reading in the House of Commons in February this year. 
Previous research has revealed almost two-thirds of drivers have successfully appealed or reduced fines sent by private parking firms.
• Best parking app for your phone group test
The statistics highlight the scale of rogue and dubious practices some private parking firms exercise, according to the RAC, which conducted the study. Of the drivers sent tickets by private parking firms, 38 per cent chose to immediately pay the fine with 62 per cent appealing. Of those, 60 per cent were successful with their appeal suggesting some private parking firms aggressively target drivers. 
The numbers follow on from figures released in 2017 that showed private parking firms obtained 4.71 million sets of vehicle records from the Driver and Vehicle Licencing Agency (DVLA), up 28 per cent from the previous year. 
According to the RAC Foundation, which analysed the numbers, many will have likely been used by parking firms to send penalty charges as high as £100 to drivers who may have overstayed their limit by just minutes or to those who may not have had the chance to pay for parking due to faulty machinery or ambiguous or misleading signage.  
• Surge in driver details sold to private parking firms
The number of owner records bought by private parking firms – the DVLA charges £2.50 per record – have surged over 17-fold since 2006, and risen by nearly three million since 2012 when new laws banned private parking firms from clamping cars. The new practice of chasing drivers afterwards is seen as an equally dubious money-maker for the firms. 
Sir Greg Knight said: "Some dodgy operators are engaging in practices including 'ghost ticketing' – the use of CCTV to spot parking infringements and issue parking charge notices, unclear and ambiguous signing and issuing tickets despite malfunctioning parking payment machines. Currently, there is no legally binding, mandatory code of practice."
RAC parking policy spokesman Nicholas Lyes said: ""We have been calling on the Government to do the right thing for some time now. That's why we are giving our wholehearted backing to the private member's bill tabled by Sir Greg Knight MP. It is ludicrous that an industry with such a poor reputation is allowed to self-regulate without a shared minimum code of practice or an effective independent appeals process." 
Have you been hit with a fine from a private parking firm in the last 12 months? Tell us in the comments below...