Car insurance fraud types revealed in a new study
Car insurance fraudsters most likely to use low-speed crashes to claim compensation, with claims for non-existent passengers up, too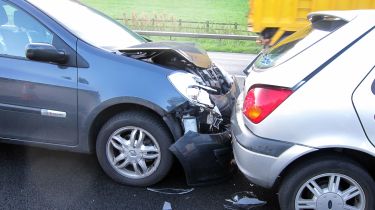 The different types of car insurance fraud in the UK have been revealed in a new study that shows fraudsters are most likely to use low-speed crashes to seek compensation.
According to Churchill Insurance, car insurance fraud is on the rise with low-speed crashes now accounting for over a third of all insurance fraud (see table below). The report also identified fraudsters are increasingly claiming compensation for non-existent passengers. Claims for "phantom passengers" grew to eight per cent last year, up by two per cent from 2015.
Data from the Association of British Insurers reveals there were some 70,000 cases of motors insurance fraud in 2015, accounting to 192 instances every day. Fraudsters continue to scam the industry for roughly £800 million a year, with an average payout at a whopping £11,428. Insurance fraud is estimated to add £90 to the cost of an average policy for honest drivers.
• New measures aim to tackle car insurance fraud
Last year the Government announced new plans to kerb insurance fraud by introducing claims caps for minor whiplash injuries. The new measures are expected to save motorists £40 on their insurance.
The Government has also increased the upper limit for the small claims court for personal injury claims from £1,000 to £5,000.
| | |
| --- | --- |
| Fraudulent claim type | % of fraudulent claims in 2016 |
| Low-speed impact (when both vehicles collide at low-speed e.g. in a car park) | 36% |
| Organised fraud rings | 15% |
| Phantom passenger (when the claimant was not in the vehicle at the time of the collision) | 8% |
| Induced Road Traffic Accident (RTA) (when one motorist deliberately causes the accident – for example, by slamming on their brakes - and the innocent other party collides with the vehicle) | 8% |
| Staged Road Traffic Accident (RTA) (where both vehicles are complicit in the fraud e.g. the accident may have been staged) | 7% |
| Exaggerated loss/ damage (when an accident occurs and the claimant exaggerates the circumstances) | 3% |
| Indemnity/policy issues (when the customer has lied when taking out the policy) | 2% |
Mark Chiappino, counter fraud manager at Churchill said: "Fraudulent car insurance claims are on the rise, as opportunists try their luck at making exaggerated claims after a genuine accident or reporting injuries to phantom passengers, which have a knock-on financial effect on innocent customers.
"When involved in a collision, whether it's your fault or that of another driver, try to gather as much information at the scene to make the claims process easier. If you are involved in an accident and it is safe to do so, it is advisable to take down the contact and insurance details from the other motorist, take photos of any damage caused and contact details for any witnesses."
Have you ever witnessed insurance fraud? Tell us in the comments below...