DVLA scam email: warnings over phishing e-mail sent out by fraudsters
New scam e-mail promises drivers are owed a refund on their car tax from the DVLA. Here's what to look out for...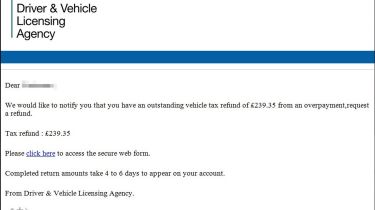 Motorists have been sent fake e-mails from scammers pretending to be the Driver and Vehicle Licencing Agency.
According to BBC Watchdog, drivers have received an e-mail which appears to be from the DVLA and asks them to follow a link to fill out their personal information.
The scam e-mail tells owners they have an "outstanding vehicle tax refund of £239.35 from an overpayment request" and are due a refund which can be accessed by following a link. The e-mail carries the official DVLA logos and even features a link to report spam and phishing e-mails.
This isn't the first time fraudsters have targeted drivers by pretending to be the DVLA. The last two years have seen both text and e-mail scams reported to the police. Previous e-mail scams have also targeted drivers by stating they've overpaid for their vehicle tax and are due a refund but the latest is one of the most convincing yet.
However, the DVLA has said it will never send links to third party websites. In a statement issued last year following another scam e-mail, the agency advised drivers: "We don't send e-mails or text messages with links to websites asking you to confirm your personal details or payment information. We strongly advise anyone who receives such a request not to open the link and delete the item."
Have you ever received an e-mail scam from the DVLA? Tell us in the comments below...