UK's safest used cars revealed
Volvo clinches yet another safety award while VW group sweeps the board for young drivers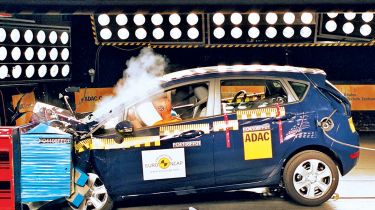 The UK's safest used cars have been revealed, with the Volvo V40 taking the gong for the second year running.
The Swedish hatchback came out top trumps in the study after scoring well for its suite of safety features which include blind spot detection, roadsign feedback, tiredness alert and autonomous emergency braking (AEB).
• Safest new cars on sale 2017
All cars in the top ten, collated by safety experts Thatcham Research for Co-op Insurance, cost under £15,000 to buy second hand, have a five-star Euro NCAP safety rating and CO2 emissions below 120g/km.
Top 10 safest used cars in the UK now
1. Volvo V40 with IntelliSafe safety pack (2012-)
2. Mazda 3 (2016-)
3. Toyota Auris (2015-)
4. Volkswagen Golf SV (2014-)
5. BMW 2 Series Active Tourer (2014-)
6. Volkswagen Touran (2015-)
7. Volkswagen Golf (2013-)
8. Nissan Qashqai (2014-)
9. Peugeot 308 (2014-)
10. Volvo V40 (2012-)
• What is Euro NCAP? Car safety, star ratings and dual rating crash test scores
The insurer also named the Skoda Citigo, Volkswagen up! and Seat Mii, which share the same VW platform, as the safest used cars for under £5,000.
These cars also have five-star Euro NCAP ratings and CO2 emissions of under 120g/km but are in low insurance groups, making them cheap to run and well-suited as first cars for young drivers.
Top 5 safest used first cars
1. Skoda Citigo (2014-)
2. VW up! (2014-)
3. Seat Mii (2014-)
4. Toyota Yaris (2011-)
5. Kia Rio (2011-)
The study found that less than a third of drivers aged 17-24 consider safety when choosing a vehicle and three-quarters don't know about safety devices like electronic stability control (ESC) and autonomous emergency braking (AEB). This is despite 41 per cent of young drivers having had a car crash while behind the wheel.
The research also revealed that young people rank a car's colour as more important than how safe it is, while the number one consideration is price.
• The top ten best cars for safety features
Matthew Avery, director of research at Thatcham Research said: "My advice to parents buying their child a first used car: do not buy the oldest or cheapest car you can find. There are plenty of good deals out there for newer or second-hand cars that have a five-star Euro NCAP test rating and are fitted with ESC and AEB as standard."
James Hillon, director of products at Co-op Insurance, added: "Whilst we recognise that cost is an important factor for many, you cannot put a price on safety."
While some parents will argue that not everyone can afford to buy a new or nearly-new car for their child, with PCP offers now as low as £99 a month it may be cheaper for some to have a brand new car on a finance deal than pay for repairs on an older car.
Is safety a key consideration for you when buying a car? Tell us in the comments below