Fabia Group test
We put Skoda's Fabia against the Vauxhall Corsa and Renault Clio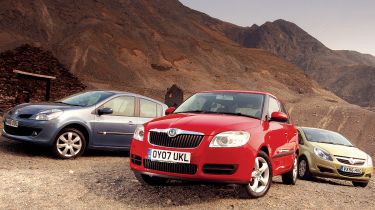 Hewn from granite. It's a motoring cliché that could never be used to describe one of Skoda's products until the Fabia arrived on the scene seven years ago.
The chunky and tough supermini fundamentally changed the perception of the brand – a rare achievement in the competitive and image-conscious car industry. Besides being solid, the Czech machine was also well engineered and ergonomically designed, helping it to stand out from rivals and claim our Car of the Year title in 2000. But with a new crop of superminis moving the bar ever-higher, can Skoda make as big an impression this time around with the second-generation Fabia?
There will be five engines and three trim levels – simply called 1, 2 and 3 – to choose from. Prices range from £7,990 to £13,015, but with economy and value for money key for many Fabia fans, it's the 1.4-litre three-cylinder TDI diesel in Fabia 2 trim that we test first. However, the competition in the supermini class couldn't be tougher, and the newcomer faces our current class favourites – the Vauxhall Corsa and Renault Clio. Both are tested here in five-door form, powered by small diesels.
With their fresh styling and focus on space, quality and refinement, they are the best models the new Skoda must face. So can the Fabia continue the winning ways of its predecessor?
Verdict
The Fabia is robustly built, well engineered and roomy, and offers safe handling, a comfortable ride and good value for money, too. As a no-thrills supermini, it's an accomplished performer, but the three-cylinder engine lacks the refinement of its four-cylinder rivals here. The Skoda can't match their driving involvement, either, but a big boot and excellent rear space mean it is practical. Put simply, although competent and capable, it lacks sparkle. And it's a sign of how competitive the sector is that the Fabia finishes third.
Splitting the Corsa and Clio is even more difficult. Both are talented superminis, closely matched in nearly every area. The Renault offers the edge for driving involvement, but the Vauxhall has the higher-class cabin. It also represents better value for money, beating the Clio's price, residuals and equipment. So the Corsa takes victory by the narrowest of margins.