Fuel economy challenge
We find out how much difference changing your driving style can make to your fuel bills on motorways, country roads and in town...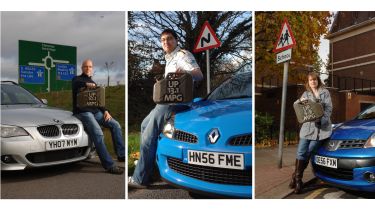 Fuel costs are rising faster than the Chancellor's heart rate at Budget time. Average petrol prices have jumped by 12 pence per litre since January, with diesel up by 10 pence. That means if you travel 12,000 miles a year in a car doing 30mpg, your annual fuel bills have increased by over £215 inside 12 months – a 12 per cent rise.
With no prospect of pump prices dropping, or cars becoming suddenly far more frugal, what can you do to limit your outlay on fuel? The answer is simple: drive more efficiently. So that's what three of us have tried to do.
Over the past few weeks, we've been using techniques recommended by driving organisations, fuel companies and the Government in three of our long-term test models to see how much fuel we could save.
None of the cars was taken out of its routine during the test, and nor were our three contenders chosen at random. The BMW 535d runs on diesel, and as road test editor Oliver Marriage spends most of his time on motorways, it clocks up nearly 1,000 miles a week.
Our Renaultsport Clio 197 covers about half that mileage with road tester David Ross, but it demands pricey super unleaded. Picture editor Dawn Tennant's Nissan Note 1.6 petrol rarely escapes the city, but with a litre of unleaded having passed the £1 mark, annual bills top £1,600. Let's see what we can do to improve matters.
We've ranked our contenders based on the amount of money saved over a year. However, each car is so different from the next that finishing order is almost irrelevant. What isn't in doubt, though, is that no matter what you drive, by following our top ten tips (right) you can reduce your fuel consumption significantly.
Verdict
How to drive smarter
"The driver is the single biggest factor in improving fuel economy" – so says Brian Macey, BP's product development manager. "We've conducted tests, and after training we found most motorists could improve their economy – and therefore reduce their CO2 emissions – by between 15 and 30 per cent." But what are the tricks of the trade that help you save fuel? We list the top 10...
1. Speed (15 per cent gain) It sounds obvious, but slow down. This is especially true at higher speeds, where aerodynamics have a large effect. The Government claims that you'll use 15 per cent less fuel at 50mph than at 70mph.
2. Planning (20 per cent gain) Smooth driving saves fuel. Look as far ahead as possible and react to changing conditions. According to Brian Macey, "everything that makes you a safer driver will also make you a more economical one".
3. Controls (18 per cent gain) Hand-in-hand with planning goes gentle use of the car's controls – so no hard acceleration or braking, and keep the revs down. Also, don't be tempted to coast in neutral, as the engine uses fuel to idle. Stay in gear, use engine braking and no fuel is consumed.
4. Weight (15 per cent gain) The heavier the car, the harder the engine has to work – a 15 per cent weight increase will see economy fall by the same amount.
5. Aerodynamics (27 per cent gain) Roof boxes, trailers, even having your windows open – all these things disrupt the smooth flow of air over the bodywork, thus increasing the amount of work the engine has to do.
6. Maintenance (8 per cent gain) Keep a regular check on your engine, but even more importantly your tyres – low pressures mean greater rolling resistance. Worn-out rubber knocks economy, too.
7. Fuel (6 per cent gain) For starters, don't fill up at motorway services, where prices can often be 10 pence per litre higher than on normal forecourts, according to the Institute for Advanced Motorists. But opting for higher-octane premium fuels can make sense, as they keep your engine clean and working more efficiently.
8. Electrics (10 per cent gain) Air-conditioning is the main offender, although all electrical systems, from the stereo to the rear screen demister, put a drain on the battery.
9. Idling (4 per cent gain) Stopped at a level crossing? Then switch your engine off, even if you're only going to be stationary for 30 seconds – modern cars don't force fuel through when restarting. The average motor burns one litre an hour when idling.
10. External factors (14 per cent gain) It goes without saying that driving at rush hour is going to cost you, so try to time your journeys for quieter periods. Also, as BP's Brian Macey told us: "Atmospheric conditions have an effect. As a rule of thumb, cars do better in warm temperatures."