Compact SUV clash
Renault is venturing into new territory with its first compact SUV, the Koleos. We find out if it can hit the heights as we pitch it head-to-head with the excellent Ford Kuga.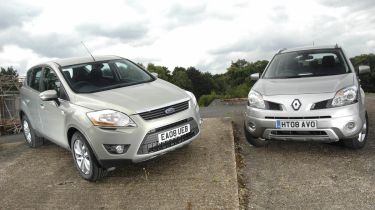 You won't find the latest generation of compact off-roaders up to their axles in mud very often. Modern 4x4s spend most of their time in the urban jungle or on motorways, rather than in the rough stuff.
Renault is the latest manufacturer to enter the compact SUV fray, with the Koleos. The company has a limited history in off-roaders, so it borrows much of its technology from sister firm Nissan's X-Trail. However, when it comes to road-biased 4x4s, the Ford Kuga towers over the compact SUV landscape. Fresh from a great showing in its first group test (Issue 1,016), the Kuga has proved it has more mud-plugging ability than most buyers will ever need, and it reigns supreme on the open road. So does Renault's newcomer face an uphill struggle?
Verdict
This was never going to be an easy challenge for the Renault Koleos – the Kuga has already seen off talented rivals such as the Honda CR-V and VW Tiguan. The incredible handling and desirable looks make it a class act.
The Renault offers generous equipment, a practical interior and more off-road ability, but that's not enough. Few of these cars will venture far beyond a muddy car park, so they need to excel on tarmac – and that's where the Koleos falters.
Its drab looks and soft suspension mean it trails the Ford, and the Privilège model costs £1,000 more than the Kuga Titanium. Lesser trims are more competitively priced and arguably make greater financial sense.
Even so, the Renault brings nothing new to the compact SUV party – so the Kuga chalks up another resounding victory.