Passat R36 vs 9-3 Turbo X
In part one of our estate special, high-performance carriers from VW and Saab come face-to-face.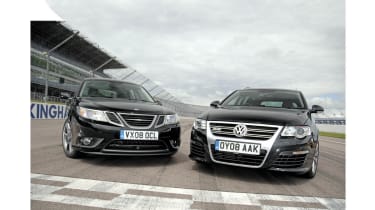 Pace and space have never mixed so well. The estate car market is growing in all directions, and buyers wanting high performance load-luggers have never had it so good.
To kick off our estate car road test special, we've gone straight for the performance premier league. Although they can't match the power of models such as the Audi RS6 Avant and BMW M5 Touring, the two holdalls here offer acceleration that's hard to match for less than £35,000.
First up is a model that has helped to expand Volkswagen's sporting range. While the GTI badge holds the most cachet in the German firm's line-up, it's reserved for smaller hatchbacks.
The racy R logo is worn only by the fastest VWs of the lot, and the muscular 3.6-litre Passat R36 has desirability to spare. But when it comes to badge envy, there's one brand that can rival the draw of VW: Saab. Even though the firm has been off the boil in recent years, loyal fans have finally been rewarded with a mighty four-wheel-drive 9-3 flagship, the Turbo X.
So which of these swift, practical newcomers can race to the finish line first?
Verdict
The fast estate concept is nothing new, but does it still make sense? There's no doubt both of our contenders offer impressive pace, yet neither sets pulses racing like hot models should.
In the end it's the all-round appeal of the VW Passat that takes victory. Yes, you will have more fun – and save more than £10,000 – in a Golf GTI, but there's no arguing with the R36's devastating pace. It's also hugely practical and has desirability to spare. A classy cabin and subtle styling tweaks are sure to appeal to anyone looking for grown-up family car thrills.
Saab's 9-3 is left trailing by its German rival thanks to its older chassis and numb controls. Yet when viewed in isolation the woosh of the turbocharger and the distinctive looks will still keep Saab fans happy. What's more, the Turbo X's higher price is easily offset by the steeper depreciation of the Passat.