4x4 alternatives road test
We pitch Hyundai's two-wheel-drive Tucson against SEAT's 4WD Freetrack MPV to see which off-road wannabe can sail to victory in this battle of the 'fake' 4x4s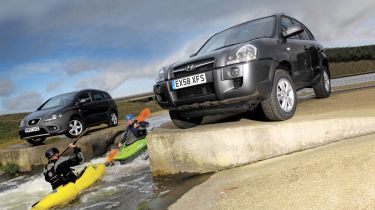 Getting your kicks from whitewater sports used to require trekking to a remote mountain range to find a fast-flowing river. But now, thanks to artificial courses, you can get the same adrenaline hit without straying far from the city.
Question is, can you do the same with 4x4s? Is it possible to recreate the feel and image of an off-roader without buying a real one? Well, that's exactly what the pair of cars in this test are aiming to do – in two totally different ways. One has an SUV body but feeds power only to the front wheels, the other has an MPV shape but adopts a 4x4 powertrain. Which is the best format for faking it?
First up is the new front-wheel-drive version of the Hyundai Tucson, which is designed to offer compact SUV looks and image without the drawbacks of a power and fuel-sapping four-wheel-drive system. Meanwhile, SEAT's Altea Freetrack is a compact MPV with raised suspension, off-roader styling cues and, crucially, four-wheel drive.
So, do either of these models offer enough to tempt buyers out of real off-roaders, or even conventional family cars? We left the rapids of the Nene Whitewater Centre behind and hit the road to find out.
Verdict
How do we rate the fakes? In the age of saving fuel and reducing emissions, we've got nothing against any model that combines SUV looks with conventional hatchback economics. However, faced with class-leading crossover vehicles such as the Nissan Qashqai, neither of these contenders offers the strength in depth to be recommended as alternatives.
Still, the Hyundai's price is tempting, especially with such a generous spec. But the economy and emissions gains over the four-wheel-drive version are minimal. It's slower, smaller and less practical than the SEAT, while the poor handling and dull cabin also disappoint.
The Altea Freetrack is a more practical and family friendly choice. Its styling won't be to all tastes, though, and whether the minimal off-road ability makes it a better choice than a conventional Altea XL is debatable.