Fiesta's day of reckoning
It's the ultimate challenge for Ford's new baby as both three-door and five-door versions meet their key rivals in its first UK group test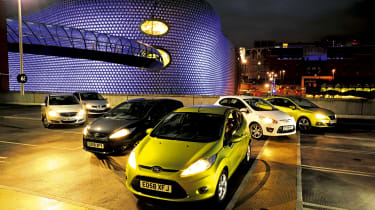 The most enduring supermini legend is reborn again! The arrival of a new Ford Fiesta means two things for the new car market: the benchmark is set to be challenged and rivals had better be ready for a fight in the sales charts.
That's why we've brought together not one but two of Ford's latest creations – it's time for both three and five-door versions of the fresh-faced Fiesta to meet their toughest challengers. In this unique test, we will decide the best choice in both bodystyles in order to name our ultimate supermini.
As with its competitors, the three-door Fiesta places style and desirability above practicality. Our trio of great-looking trend setters is completed by the compact Mazda 2 and SEAT's recently launched, top-value Ibiza SC. Which will triumph when versatility takes a back seat?
Five-door superminis have grown up. They offer a more viable option for downsizing motorists than ever before, and the latest crop of range-topping models should demand no compromises.
Here the flagship-spec Fiesta Titanium meets our current class champion, the Vauxhall Corsa, and also faces Renault's evergreen Clio. All of our five-door models are powered by punchy diesel engines to give maximum long-distance efficiency and gutsy performance.
Let the supermini contest of the year commence!
Verdict