Hottest hatches shoot-out
UK's hottest hatches are getting even hotter, with officially approved upgrades from Honda, VW, Ford and Renault. We rev them up...!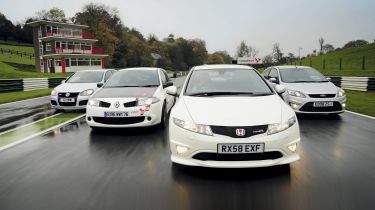 There's a grid full of new hot hatches this winter – all with the thermostat turned up to the max! We are used to every new performance model being more extreme than its predecessor, but to boost flagging sales several companies have given their street fighters a dose of steroids.
Here we bring together four of the finest hot hatches, each with a different type of officially sanctioned modification designed to tempt you to part with your cash. Leading the pack is the amazing new Renaultsport Mégane R26.R – a no-holds-barred street-legal track machine.
Next up is Honda's Civic Type R GT Championship White. It's less extreme, with the main upgrade over the standard car being a limited-slip differential.
Joining it is a 256bhp Ford. While we are eagerly awaiting next year's RS, this Focus ST provides extra bite thanks to an officially supported Mountune kit. Finally, we give one of our favourite hot hatches a fitting send-off. We will test VW's MkVI Golf GTI in the spring, but the final Pirelli version should be the most desirable MkV yet.
These cars have different prices and talents, so our verdict won't be made using conventional criteria. Instead, we'll judge each on how well it moves to the next level, rating any boost in desirability and performance against price increases. So, hold on tight as we push each to the limit around the white-knuckle-ride Cadwell Park circuit in Lincolnshire.
Verdict
When choosing a winner here, we weren't necessarily looking for the biggest thrills. Instead, we wanted the biggest increase in fun factor per pound.
That means the Golf Pirelli comes last. We don't think the alloy wheels fitted to the special-edition model are worth the extra money, even though the additional power is most welcome.
Next up is the Ford. Its Mountune tweaks give serious performance, but they also highlight the ST's shortcomings of low economy and poor traction. There are some clear areas for improvement for the forthcoming Focus RS.
Separating the remaining two cars was a tougher task. With its eye-catching looks and clever limited-slip differential, the Honda represents great value because the additional kit is expected to add only £1,000 to the list price.
However, it doesn't take top spot in this test – simply because Renaultsport has built its best-ever car. The incredible Mégane has undergone a quite amazing transformation. Engineers set out to build the ultimate trackday hatchback – and they succeeded.