Renaultsport Mégane R26.R
French turn up the heat to take model out with a bang.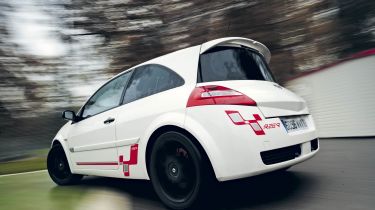 If you like your hot hatches raw, the Renaultsport Mégane R26.R will be your kind of performance model. Only 230 examples of the limited-run car will reach UK dealers, and even a quick glance is enough to reveal just what a serious machine the French firm has created.
For a start, there's a bare carbon-fibre bonnet to save weight, while uprated Brembo brakes are visible inside the black alloys. Stick-on graphics guarantee plenty of attention, too, and if you look through the plastic rear windows (another weight-saving measure) you'll see there are no rear seats.
The diet doesn't end there, because climate control is an optional extra – air-conditioning remains, although there is no sound system. Up front you get a pair of proper racing seats and our test car was fitted with an optional rollcage.
Other neat touches include a reflected R26.R sticker on the front bumper, so the driver of the car in front can read it in their mirrors! However, the changes go beyond mere cosmetics, because the hot R26.R also features unique suspension and a clever limited-slip differential. So how much weight has the Mégane shed? Amazingly, engineers have managed to lose 123kg – the equivalent of two small adults.
Start the standard 2.0-litre turbo engine up, though, and the first thing that strikes you is the amount of noise it generates inside the cabin – sound deadening is virtually non-existent in this hatch.
Pull away and the incredible grip soon grabs your attention. In soaking wet conditions the Mégane tore from 0-60mph in only 5.9 seconds, making it the fastest car of our quartet. The best the more powerful Ford could manage was 6.6 seconds.
There's more to the R26.R than straight-line speed, though. Thanks to its grippy semi-slick tyres, revised suspension and clever diff, its cornering abilities are staggering. Even out of slow bends – and in wet conditions – you can press the accelerator harder than in any of the other cars here without a hint of wheelspin. Jump into any rival and you actually have to readjust your senses, because in the Mégane you can accelerate harder, brake later and corner much faster. It is perfectly at home on the race circuit, where it proved to be the only model with brakes capable of withstanding several high-speed laps.
Track-biased cars usually disappoint out on the road, but the hot Mégane is surprisingly civilised. While the stiff settings mean the ride is poor at low speeds, it's far from unbearable.
Refinement is also compromised by the stripped-out cockpit and plastic windows. But the biggest bugbear is the lack of movement permitted by the racing harnesses, so pulling out of junctions can be very tricky. The optional three-point belts make much more sense for road use.
When Renault said it was going to produce a last-of-the-line special-edition version of its hot Mégane, we were expecting a new spoiler and maybe some suspension tweaks. Instead, what we got was one of the most breathtaking front-wheel-drive cars ever built.
Details
Price: £23,815Model tested: Renaultsport Mégane R26.RChart position: 1WHY: Stripped-out road racer has no rear seats, a rollcage and Perspex windows.
Economy
It's the priciest hatch here, and Renault's residuals are hard to predict. The extreme spec will have limited appeal, although enthusiasts will keep resale values for the 230 UK cars healthy. Our model not only has an optional rollcage, there's also £700 semi-slick tyres, while its black alloys are £120. Glacier White paint adds £150. You can delete the gaudy decals at no charge. Mégane's poor economy was largely because it spent most of its time on the track.