Style & Substance
Does Renault's new Laguna have more to offer than just striking looks?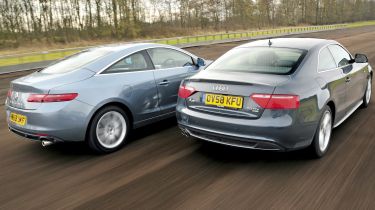 ILL you ever find a Renault and an Audi on the same car shopping list? If you're looking for a coupé, you just might...
Renault is pushing class boundaries with the Laguna Coupé and treading on the toes of premium rivals. But can it go wheel-to-wheel with one of Germany's classiest two-doors? While prices for the entry-level Laguna Coupé are tempting, at the top end it faces stiff competition from Audi and BMW. The entry-level petrol model is yours for £21,910, but the range-topping V6 diesel costs a hefty £27,460.
Switch your attention to the A5 and you'll find base models on offer for £26,380. To get close to the Laguna's level of luxury, you'll need to upgrade to S line trim and settle for Audi's four-cylinder 2.0-litre diesel engine.
With a serious price premium, two cylinders short of a V6 and less equipment, will the Audi's quality be enough to see off Renault's sharp-suited new rival?
Verdict
You can't be blind to the brand when buying a two-door. Desirability is the cornerstone of any coupé's appeal, and is largely determined by the image conveyed by the bonnet badge.
The Laguna Coupé has an array of talents, and is the French firm's first non-Renaultsport model for years to offer the kind of showroom appeal to attract the coolest of customers.
Reaching a verdict isn't easy. While we're convinced the Renault has cracked the firm's image problem without asking buyers to break the bank, any price savings are countered by the Laguna's weak predicted residual values.
And that's one of the reasons why the Audi edges victory. It doesn't have as much power and isn't as well specified as the Laguna, but thanks to its superior build quality, badge appeal and tidy handling, the A5 remains one of the coolest coupés on the market.