New Honda CR-V vs rivals
Compact SUVs are back in vogue after the recent big chill – so we take our pick from Honda's revised CR-V and three rivals...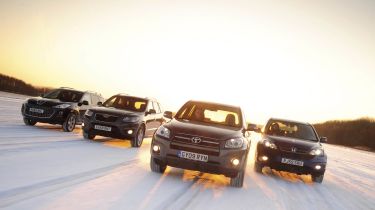 There's nothing quite like a spell of heavy snowfall to reignite our love for 4x4s. Only a few years ago, car manufacturers were tripping over themselves to join the compact SUV party. But the enthusiasm for these go-anywhere models has cooled in the face of rising fuel prices and road tax bills.
The latest cold snap has given the sector fresh impetus, though, and if you want the security and practicality that comes with owning a four-wheel drive, there's no shortage of choice. The leading contenders have all benefited from mid-life updates recently, and the Honda CR-V is the latest model to get a nip and tuck.
It is built in Britain, features a new diesel engine and is now available with an automatic gearbox. But the Honda isn't the only Japanese off-road legend fighting for attention. Toyota's RAV4 was given a makeover late last year – this introduced lower-emission engines, a new automatic gearbox and revised looks. Also aiming to cash in is Hyundai's offering in this class – the new Santa Fe provides some fierce competition with a fresh diesel engine and a great-value price.
Our final contender is the Peugeot 4007. It is based on the Mitsubishi Outlander, and was updated in the autumn, when a new dual-clutch DCS gearbox joined the range. With the British winter doing its worst, we set out to discover which car serves up the best blend of comfort, practicality, driver appeal and rugged ability.
Verdict
All of the revised SUVs here have plenty to offer – and they took the wintry conditions of our road test in their stride.
The Toyota was particularly competent in the snow, but it finishes fourth. While the RAV4 is agile and capable on and off the road, it trailed rivals with its cramped interior, dated exterior styling and poor refinement.
Next to fall was the Peugeot 4007. It doesn't handle as well as the Toyota, but claimed third place with its flexible interior and smooth double-clutch gearbox. That left a straight fight for victory between the Honda and Hyundai.
The Santa Fe is excellent value, as its competitive price buys you seven seats, lots of kit and a five-year warranty. Plus, its new CRDi engine delivers improved pace and smoothness. The trouble is, it can't match the polished dynamics and interior quality of the revamped Honda CR-V.
The i-DTEC diesel is refined and well suited to the automatic gearbox, while a decent ride and composed handling also impress. It doesn't provide seven seats, but the Honda is practical, well put together and very desirable.
Rankings 1st - Honda CR-V There's no getting away from it, the Honda is expensive. But it's a quality product wth a great engine and superb dynamics. Lower-spec models will suit smaller budgets.
2nd - Hyundai Santa Fe The Santa Fe misses out on a win by a narrow margin. It trails the Honda for refinement, ride and cabin quality, although if you need seven seats it's a great buy.
3rd - Peugeot 4007 versatile cabin and smooth gearbox give the 4007 plenty of appeal. Peugeot's lack of off-road heritage is probably to blame for the car's worst-on-test residuals.
4th - Toyota RAv4 There's a lot to like about the RAV4. The solid finish, decent handling and capable 4WD make it an attractive choice if interior space isn't your main priority.