Seat Ibiza ST vs. Skoda Fabia Scout
Is SEAT's new Ibiza ST the best supermini estate on sale? We try it out against Skoda's Fabia Scout.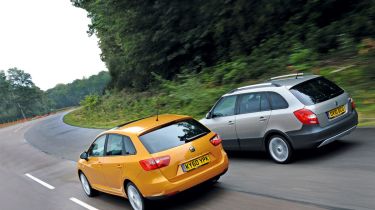 Small on the outside and big on space – the latest generation of supermini estates promises the best of both worlds. And SEAT is aiming to add a healthy shot of desirability to this formula with its new Ibiza ST.
Gone are the days when load-carriers adhered to the form-follows-function mantra, because today's estates need to look good, too. The Ibiza has a head start here, as the regular hatch is one of the sector's most distinctive choices.
We test the new ST flagship in the shape of the 1.6-litre TDI Sport. It produces 104bhp, and is effectively the same unit as is found beneath the bonnet of its rival here. That's because competition comes from fellow VW Group brand Skoda.
Unlike the SEAT, the Fabia is available with two 1.6-litre diesel options, and to match the Ibiza on price we've got the 89bhp version. Why the difference? Because we've chosen the Scout variant, with its rough-and-tough body mouldings giving it a crossover look.
Only £20 separates our competitors on price, but which of these head-turning supermini estates is the better buy – the sleek and sporty SEAT or the purposeful Skoda?
Verdict
Despite sharing the same ingredients, these two estates have very different flavours. The new Ibiza ST hits the spot as a small-but-stylish family car – yet we don't think range-topping Sport trim shows it in the best light.
Our contenders are priced virtually identically and the SEAT promises more power and sharper responses – but the Skoda is just as fast in real-world conditions and its more comfortable set-up is better suited to family life.
Scout trim also gives the plain Fabia Estate a welcome shot in the arm. And as a load-carrier the Skoda is the clear favourite. Not only is it more spacious than the SEAT, it also comes with more user-friendly features and stability control safety kit is fitted as standard.
Skoda's unrivalled reputation for service adds to the Fabia's appeal, so it wins here. Just ensure you specify the optional spare wheel.
What the Skoda lacks in style it makes up for with practicality. The Fabia has more space for both passengers and luggage than its rival, while its less powerful engine is an impressive performer – especially at the pumps. The Scout's tough-looking body mouldings heighten its appeal and set it apart from ordinary versions.
Space is clearly a priority here – why else would you consider buying an estate when the five-door hatch is cheaper and more attractive? And the Ibiza is hampered by its small boot and less roomy back seats. It's the class-leader for style, but lacks the all-round polish of the Skoda.