Used car special
Are you looking for a used car? We have 72 brilliant bargains for every budget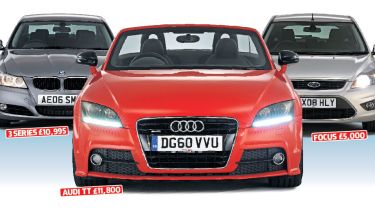 It's hard to beat the feel of a factory-fresh new car, but getting yourself a great value second-hand motor is a brilliant substitute – especially if you're paying less than half the car's original price.
In our used car special, Auto Express tells you all you need to know if you want to bask in the warm glow of satisfaction you get from bagging a bargain.
We list brilliant half-priced buys in nine key price brackets, so there should be something to suit every budget. And we've covered all the bases – whether you want something small and sporty or big and practical, you'll find it here.
As if that wasn't enough, we've even highlighted a raft of half-price supercars that prove you don't have to be a lottery winner to enjoy the finer things in life.
There's also essential buying advice that will be handy no matter what your budget. Plus, if you'd rather spend your cash on something older, we tell you how to find a tidy classic rather than a rotten money pit.
It's a buyers' market out there – and our Half-Price Heroes special will help you to make the most of it...