McLaren F1
Gordan Murray-designed F1 was the fastest car in the world... In 1998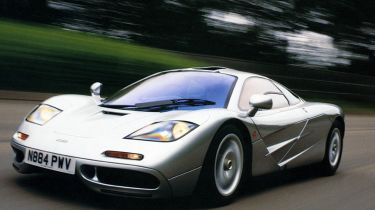 The brief for the McLaren F1's designers was simple, to create the ultimate road car. And boy did they pull it off! In 1998, it was confirmed as the fastest production car in the world – reaching 240.1mph in an officially timed run. And while other models have since surpassed that benchmark, it remains the quickest normally-aspirated road car in the world.
Power comes from a BMW-sourced 627bhp 6.1-litre V12, and thanks to the insistence of its chief designer, Gordon Murray on the use of strong space-age materials such as carbon-fibre, titanium and Kevlar the combination of low weight and monumental power gave the car its legendary performance.
Only 106 examples ever rolled off the production line, 72 of which were actual road cars, while the rest earned the McLaren its fearsome status on race circuits around the world.
When new this phenomenal machine commanded a sticker price of £630,000, although that's grown significantly alongside its reputation in recent years. An example sold at auction last year for over £2.5 million.