Technology
Cutting-edge kit is a given in this sector, so which car offers the most?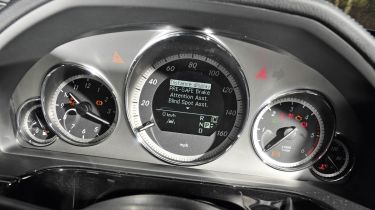 Ratings Mercedes 5/5 New E-Class comes with lots of hi-tech equipment, including xenon headlamps with high-beam assist and the maker's advanced PRE-SAFE crash prevention system. In addition, there is a clever lane departure warning device, as well as adaptive cruise control – although the latter are available only as very expensive options. BMW 4/5 Even though it's now six years old, the 5-Series Touring still matches the best models in the class for hi-tech gadgets. A lane departure warning system is standard, while active steering and a head-up display are cost options. BMW's EfficientDynamics technology doesn't grab so many headlines, but it helps the car deliver the lowest CO2 emissions. Audi 4/5 As you would expect, the A6 benefits from Audi's trademark quattro four-wheel-drive system, which serves up strong grip and traction in all weathers. Lane assist, blind spot warning and adaptive cruise control are extra. The Avant is the only model on test with standard sat-nav.
*****
Just because a car is practical doesn't mean it has to be utilitarian. Our estates are packed with the sort of hi-tech kit that was the preserve of outlandish motor show concepts until recently.
The new Mercedes sets the standard – particularly for cutting-edge safety devices. Top of the list is Attention Assist, which guards against driver fatigue by detecting erratic steering inputs and delivering visual and audible warnings.
The E-Class also gets bi-xenon headlights, which include a cornering function and High Beam Assist to take the strain out of night-time driving. The latter uses a small camera at the top of the screen to monitor oncoming traffic, and dips the main beam automatically if it senses another car approaching. The same set-up costs extra on the BMW and Audi.
There are plenty of options on the Merc, too, including our model's £705 blind spot alert. This displays an illuminated triangle in the door mirror and sounds an alarm when it senses you are about to pull into the path of an overtaking vehicle.
Included in the price is the Lane Tracking kit, which sends pulses of vibration through the steering wheel if you drift across white lines. However, we found the feedback too subtle.
For an extra £890 you can add active cruise control, which uses radar to maintain the same speed as the vehicle in front. It will also bring the car to a halt if the traffic stops suddenly.
Advanced technology isn't exactly lacking in the six-year-old BMW. All models get lane departure warning as standard, while radar cruise control and high beam assist are options. Other extras include a useful – if pricey – £940 head-up display that shows speed and sat-nav info. Even more costly is the £970 Active steering, which reduces wheel twirling at low speeds. Yet while it makes parking easy, it also hampers feedback. We'd stick with the standard set-up.
Lane departure and blind spot warnings, plus radar cruise control, are available on the A6. But what sets the Audi apart is its quattro 4WD. In normal conditions, the engine's torque is split between front and rear axles. When required, though, a centre-mounted Torsen diff can shift up to 75 per cent of the TDI's 500Nm in either direction. The result is incredible all-weather grip – the other models rely on power-sapping traction control.