Interior
Buyers in this market want a sense of occasion in their car's cabin. We see if our trio delivers.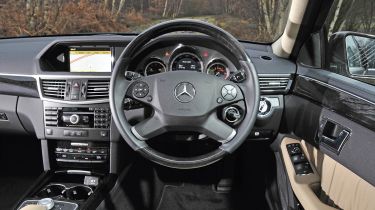 Ratings Mercedes 5/5 While it's not the most stylish design in this test, the Mercedes interior is beautifully put together, spacious and comes with lots of kit. It's also refined at speed. The Avantgarde model gets leather seats as standard, although the Dynamic front chairs of our test car cost £1,045 and are no more comfortable than the standard items. BMW 5/5 As with the exterior, the BMW's cabin has aged remarkably well. It can't match the Mercedes for space, but there's greater design flair and it feels every bit as solidly built. Centre console-mounted iDrive multimedia controller is now much improved and easier to use, although it's still not quite as intuitive as the Audi's MMI set-up. Audi 4/5 In this company, the Audi is beginning to feel a little old. While there's nothing wrong with the high-quality finish and classy materials, the A6's dashboard now looks dated and the cabin can't match its rivals for space. Still, there's plenty of equipment as standard – the spec tally includes leather trim and sat-nav.
*****
Premium estates have to strike a delicate balance between luxury and versatility. Our contenders need to deliver the spacious and practical cabin of a large family machine, while also maintaining the cosseting executive car nature of their saloon counterparts.
Owners of a four-door E-Class will certainly feel at home in the new estate version, because the cabin is virtually identical. Sit behind the large diameter wheel, and you're confronted by the same angular and upright dashboard.
As you'd expect, switchgear is logically laid out, while fans of the brand will be familiar with the quirky single stalk that controls both the indicators and windscreen wipers. Although it can't match the BMW for style, the ambience of our car was given a boost by the optional £2,500 Luxury Pack. This pricey addition upgrades the standard leather seat trim, and adds a stitched fake hide finish to the instrument housing and door tops. Fit and finish are superb, but the firm's COMAND control system for the stereo and optional sat-nav is not as user-friendly as the slicker set-ups of the BMW and Audi.
Our E-Class also had a pair of Dynamic front seats, which feature a massage function and active side bolsters that move to support your body during hard cornering. However, at £1,045, they are expensive and no more comfortable than the excellent standard items.
Occupants in the rear get plenty of legroom, and there's easily enough space to house three adults. There's also a deep-lidded centre console compartment and generous door pockets that will hold all the usual family odds and ends.
Despite its practical estate bodywork, the BMW is clearly a driver-focused machine. Climb aboard, and you'll discover an extremely comfortable, low-set driving position and thick-rimmed three-spoke steering wheel with gearshift paddles. Our M Sport trim car also gets heavily bolstered front seats.
The long, sweeping dash is the most eye-catching of our trio, thanks in part to its heavily cowled dials and simple layout. Mounted on the centre console is the latest version of the firm's iDrive system, which is now much easier to use. Space isn't an issue, either, as there's plenty of leg and headroom for all occupants. It's also worth noting that our car's cream leather (an £815 option on M Sport models) would quickly get grubby with even the lightest family use.
Although the Audi isn't the oldest car here (that honour goes to the BWW), it feels the most dated. The driving position is higher set than its rivals, while numerous buttons and switches make the dash look cluttered.
However, there's no doubting the impeccable build quality and classy materials. The Avant is well equipped, too, with both SE and S line models benefiting from sat-nav and leather seat trim as standard. In addition, the A6 doesn't give much away to its rivals in terms of space. Five adults will fit in the cabin, although the dark headlining can make it feel a little claustrophobic.