New E-Class estate vs rivals
Is Mercedes' new E-Class Estate the best premium cargo carrier on sale? We see as it meets its key rivals...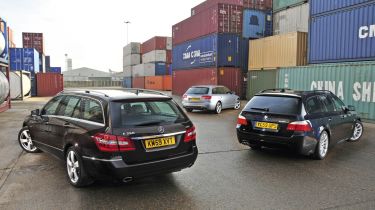 States come in all shapes and sizes – and executive models are the most desirable of the lot. They combine the sharp handling and refinement of a prestige saloon with the space and practicality of a storage container...
Some are more sensible than others, though, and if load capacity is your main objective, the Mercedes E-Class has always been one of the biggest around. The latest car doesn't disappoint – a huge boot puts it in pole position on paper. Yet that alone won't be enough for it to win its first UK road test.
Lining up against the Mercedes is a pair of German rivals. Audi's A6 Avant combines extra load carrying capacity with stylish lines. Our other contender also wears a fashionable badge. We've already driven the impressive new BMW 5-Series saloon (Issue 1,099), but the next Touring estate doesn't arrive until the autumn.
The outgoing model remains a force to be reckoned with, though, thanks to its incredible engines and fine driving dynamics. The question is whether the 5 is still a better buy than the new Mercedes?
Verdict Executive estates need a broader array of talents than most othernew cars. They are the ultimate all-rounders, mixing style, luxury,practicality and performance. But which one is the best?
Whilethe rakish Audi is getting long in the tooth, it still looks the part,particularly in sporty S line trim. Equipment is generous, plus it hasa decent-sized boot and all-wheel-drive traction. But it can't matchthe space of the Mercedes or the BMW's sharp dynamics.
For keendrivers, the 5-Series is still the top choice. It delivers more thrillson the road than either opponent in this test, and its powerful dieselis an engineering masterpiece. While the BMW isn't the largest car, ithas some neat touches that boost practicality.
Yet it's notquite good enough to secure victory here. In the final reckoning, theMercedes has the edge. It is by far the biggest estate on test, and hasclearly been designed with family buyers in mind. It's also excellentvalue, delivers strong performance and is easily the most refined carhere. But with a new 5-Series Touring on the way, the E-Class won't beable to rest on its laurels for long...
Result 1st:Merc E350 CDI EST Big,versatile and competitively priced, the new Mercedes takes a deservingwin. It's not quite as sharp to drive as rivals, but if you specify theoptional Sport trim, it wouldn't be far behind. Superb build and adesirable image add to the Merc's long list of talents.
2nd:BMW 535d Touring Althoughthe flagship model we tested is expensive, the basic 5-Series packageis still very strong. Beautifully built, great to drive and with aversatile boot, it remains a fine choice. The new model, due later thisyear, will be a contender for top honours.
3rd:Audi A6 Avant TheA6 still has plenty of appeal. It's stylish, packed with kit asstandard and features Audi's excellent quattro drivetrain. However,it's edged out by the cleaner and more efficient BMW by the narrowestof margins.
Verdict