Practicality
Space and versatility are key for any estate – so it's out with the tape measure to rate our models.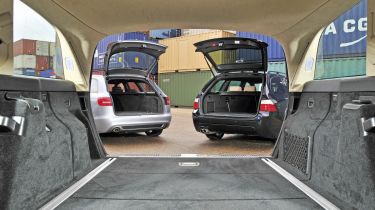 Ratings Mercedes 5/5 For carrying capacity, the Mercedes is the undisputed champion in this test. With the rear bench folded flat, there's a van-like 1,950 litres of available space. Underfloor storage, a boot divider and various hooks further boost the E350's versatility. Plus, the useful powered tailgate comes as standard on all E estates. Audi 4/5 Even though the A6 falls into the middle ground of our trio in terms of space, it's closer to the BMW than the gigantic Mercedes. An electrically powered tailgate will set you back £450, while adaptive air-suspension costs an eye-watering £1,500. But load securing straps and rails are a useful addition, and look much better value at an affordable £125.
BMW 4/5 The 5-Series is slightly smaller than its rivals, and it shows when you open the boot. With the rear seats in place, the BMW swallows only 500 litres of luggage – that's 195 litres less than the Mercedes. However, it does get a boot stowage system, self-levelling rear air-suspension and opening glass hatch as standard.
*****
This is the acid test for our contenders. If a large estate car is going to succeed, it needs to deliver practicality and versatility by the bucketload. On paper, the Mercedes looks to have an immediate advantage. Open the standard powered tailgate and you will find a healthy 695 litres of load capacity – nearly 200 litres more than in the BMW.
Pull two small levers located on either side of the load bay, and the rear bench folds automatically to liberate an enormous 1,950 litres. Better still, this is the only car on test to offer a flat load area when the seatbacks are lowered. Elsewhere, Mercedes' styling team has put a lot of effort into the E-Class's layout. There are fold-out hooks for hanging shopping bags, a 12-volt power supply and a large netted pocket. Standard self-levelling rear suspension also ensures that the newcomer can cope well with heavy loads.
Lift the boot floor – which can be propped up to make a load divider – and you'll find a neat flat-pack crate for loose items. Plus, for an extra £245 you can order the luggage securing kit, comprising a set of adjustable bars and straps that fits across the width of the boot.
The Mercedes' trump card, though, is its ability to turn into a seven-seater. A pair of rear-facing child seats can be specified from the options list for £855. These fold flush into the boot floor when not needed, and are a worthwhile option for family drivers who want room for more than five.
If you want the same people carrying versatility from BMW, you'll need to trade up to the X5 SUV. However, that's not to say the 5-Series Touring isn't up to scratch as a load carrier. Despite falling behind the E-Class for outright space, the 535d still has a lot to commend it.
Although its 500-litre boot is the smallest here, it is well shaped and has a low loading lip. And while a powered tailgate is a cost option, the 5-Series is the only car in our trio that has an opening glass rear hatch for loading smaller items in tight parking spaces. In addition, the BMW benefits from a clever load divider that folds out from the lockable boot floor, and forms three separate compartments.
The Audi features a simpler load divider with a wipe-clean plastic floor that's perfect for muddy or wet items. You'll be able to pack slightly more luggage into the boot of the A6 than the BMW, although both still trail the mighty Mercedes.
As with its rivals, the Avant gets a large retractable load cover that incorporates a dog guard-style net. It can be fixed in place to protect rear seat passengers from loose luggage flying around the cabin.
Our car also had a load securing kit – extending bars and belts that slot into boot floor-mounted runners. This stops shopping bags rolling around the large load bay, and at £125, it's nearly half the price of the similar Mercedes system.