Peugeot 2008 vs rivals
Supermini-SUVs are big news, but is Renault's new Clio-based Captur a better buy than the Peugeot 2008 or Nissan Juke?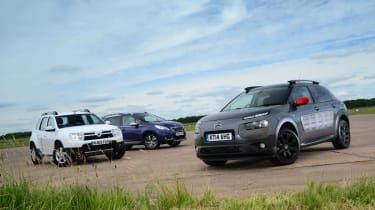 No sooner has one new small crossover been launched than there's another one ready to join the ranks. Only last month we tested the Peugeot 2008, and now it's the turn of the Renault Captur to make its test debut. Of course, while these cars have faux-SUV styling, they're far more likely to be seen pounding city streets – which is why the Captur is exclusively front-wheel drive.
Renault also offers a wide range of personalisation options and an array of paint colour combinations, while under the skin the engine range is geared towards efficient running.
So where exactly does the Captur fit into the mix? For its first test, we've lined up two tough rivals in the shape of the 2008 and the pioneer of the growing supermini-crossover class, the Nissan Juke.
The British-built model has been given a revised version of the 1.5-litre dCi diesel engine that it shares with the Captur, in order to help it keep pace with the ever-expanding pack of rivals. We tried all three on a variety of roads to see which is the compact crossover king.
Verdict
Renault has dared to be different with the Captur, and it's a thoroughly decent effort from the French maker. The variety of personalisation options means you canbuild a car that genuinely stands out from the crowd, while the hi-tech infotainment system will keep you occupied for hours on end.
It certainly has the beating of the Nissan Juke. While the Juke's new diesel gives it a clear performance advantage, the cramped interior makes it unsuitable as a family car, and then firm ride on this n-tec model is a letdown.
The fact you can't personalise it as comprehensively as the Captur counts against it further. Although the Captur is comfortable, has a bigger boot than its rivals here and has some neat design touches in the cabin, it can't match the Peugeot 2008 for build quality or driving manners.
What's more, the Peugeot is faster, is nearly as comfortable and has far better handling, while the 1.6 HDi is powerful and almost as economical. The 2008 takes a convincing win in this test.