Caterham boss Tony Fernandes Q&A
We quiz the the CEO of the Caterham Group Tony Fernandes about his plans for Caterham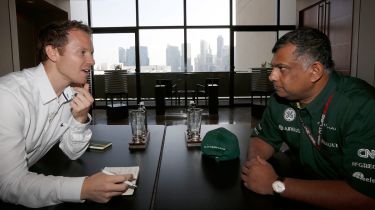 On the eve of the Singapore Grand Prix, Caterham has revealed the Caterham AeroSeven concept car. It previews a production car for next year and gives some styling hints towards an all-new sports car being developed for an early 2016 release date. We caught up with Caterham boss Tony Fernandes to find out more about his ambitious plans for Caterham road cars.
Why do you need a car like the AeroSeven now?"I wanted to show there was something new coming from Caterham and I couldn't wait until 2016. We needed something more and needed to refresh the Seven line up. I wanted closed wheels and a roof - I didn't get the roof, but it will get a windscreen."
How do you plan on making a Caterham SUV happen? "There are a few ways, we could buy in a platform, or it could be another joint venture. I want to try and create the Caterham experience in a car that's functional, too. It's a tough ask but I have some extremely talented engineers - we already have some designs for it. It has to be a crossover like nothing out there, but offer pound-for-pound affordability."
You're also interested in a city car, what would that be like? "I see no reason why we couldn't make a Golf GTI, but with a little extra kick - something in that region of size definitely. Someone coming out of university can't afford a sports car, but something like this that's stylish and fun, why not? It's about offering those who normally buy mainstream cars a piece of the F1 track, there's no reason why we couldn't put DRS in something like a Golf GTI."
How will your car and the Renault Alpine differ besides looks? "Well ours is British designed and the Alpine is French. Ours will be quicker - we have to make sure anyone who's driven a Seven gets the same rush."
Are you wary of being over ambitious, like Danny Bahar with Lotus? "Of course, but when I talk about ambition I don't lay out five new cars in front of you and go chasing Ferrari. The things we have done are smart collaborations - we did the three-cylinder engine with Suzuki and now this sports car with Renault. There's a balance to strike between telling everyone the full story, and saying you're doing nothing. I'm good at knowing what the market wants."
Can the road-car business exist without the F1 team? "It can but it's much harder - having said that how many car manufacturers are there who don't have an F1 team. F1 is definitely getting pricey, but it's a key element. We're building everything from go-karts to GP2 cars and F1 cars now, so a driver can follow the his entire career path in a Caterham."
How big do you want Caterham to become? "As big as we can without killing ourselves."