Caterham sells struggling F1 Team
Caterham Group parts company with its F1 Team, which has been bought for an undisclosed amount by a Swiss and Middle-Eastern consortium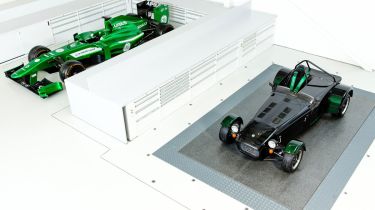 Caterham has officially confirmed the sale of its Formula 1 team to a consortium of Swiss and Middle-Eastern investors for an undisclosed fee.
Following weeks of speculation, most recently fuelled by a cryptic post on Twitter from co-owner Tony Fernandes, it was announced via a statement that the Group's struggling racing arm is now under new management.
All other Caterham brands – including the automotive manufacturing branch – will remain as part of the Group, under the continued direction of CEO Graham Macdonald.
Despite recent rumours of the group itself being up for grabs, Fernandes and his partner Kamarudin Meranun likewise retain their shareholder stakes, and as part of the deal the F1 team will continue to race under the Caterham name for the time being.
Former Hispania Racing team principal Colin Kolles, having also previously worked at Jordan and Force India, will advise the new owners, who take over with immediate effect. On a day-to-day basis, former Dutch F1 driver Christijan Albers, assisted by Manfredi Ravetto, will take over the running of the team, reporting directly to the board.
The news brings an end to a dismal couple of years for the Caterham F1 Team – they're currently bottom of the 2014 Constructors' Championship, and finished last in 2013, too.
For the rest of the Caterham Group, it appears the focus is now very much on new projects, including increased production of current models like the Seven and developing the new flagship two-seater sports car, codenamed C120.
"Firstly I want to thank everyone who was involved in the F1 team for all their hard work and dedication since the team's first days in 2009," said Graham Macdonald in a statement.
"We have now secured an exciting new future for the F1 team with Dr Kolles that will allow the Caterham name to remain in Formula 1, giving us all the benefits of that exposure but also allowing us to focus our resources on new Caterham product development whilst leaving F1 to enter an exciting new chapter under the guidance of the new owners.
"The future for us now lies with all the exciting brands that make up Caterham Group," he added.
"We will be looking to maximise the benefits of the F1 platform across all our brands, working closely with the new team owners, and our core focus is still on launching the brand new two-seat Caterham Car, a project we will be making more announcements about in due course."