Hennessey Exorcist is a 1,000bhp Chevrolet Camaro speed demon
Upgrade package by American tuners Hennessey unleashes 1,000bhp from the Chevrolet Camaro ZL1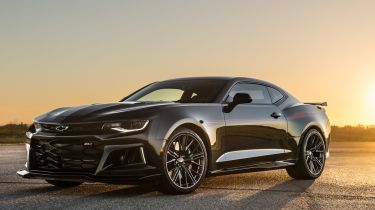 American tuner Hennessey Performance has lifted the sheets on its latest creation – a highly modified Chevrolet Camaro ZL1 which will be limited to 100 units per year of production.
Called The Exorcist, it's based on the latest version of the Chevrolet muscle car, but gets radical engine tuning and modifications, enabling it to blast down a quarter mile drag strip in less than ten seconds, and making it a rival for the Dodge Challenger Hellcat and the upcoming Challenger Demon.
• Top ten muscle cars of all time
Under the bonnet, the V8 block from the standard Camaro ZL1 remains, though power is up dramatically. Thanks to modifications such as a larger supercharger and intercooler system, new camshafts, cylinder heads, a better induction system and an engine management remapping, it now produces a nice round 1,000bhp and 1,310Nm of torque – up from 641bhp and 881Nm in the already potent standard product.
In terms of transmissions, both a six-speed manual and ten-speed automatic gearbox are offered. Power is sent to the rear wheels – rear wheels wrapped in drag strip spec rubber – and Hennessey quotes 0-60mph in less than three seconds. Though a top speed hasn't been revealed, it's safe to assume The Exorcist will crack 200mph.
In the US, it'll be available straight from Hennessey and can even be ordered directly from Chevrolet dealers. Existing ZL1 owners will be able to send their cars to Hennessey for retrofitting too. The overall cost of the package is $55,000 – about £44,000 – but that doesn't include the £50,000 price tag of the ZL1 donor car. Those with automatic Camaros will have to spend an extra £8,000, while a road race pack featuring Michelin Pilot Sport Cup 2 tyres can be had for £5,600, for those who intend on doing more than straight line blasts. 
What do you think of the Hennessey Exorcist? Leave a comment below.