2015 Dodge Challenger Hellcat - best muscle cars
The Dodge Challenger Hellcat is a muscle car for the modern era, channeling the spirit of the originals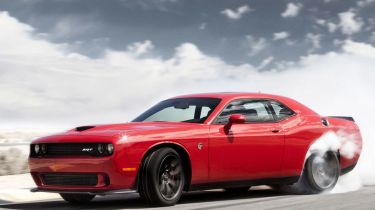 The muscle car revival that began in the early noughties has seen lots of big-hitting V8 models back in showrooms, but nothing has yet compared to the Dodge Challenger Hellcat introduced in 2015.
If we thought the Chevrolet Camaro ZL1 was over the top with 580bhp, or the Ford Mustang GT500 was outrageous with 650bhp, then the 707bhp pumped out by the 6.2-litre Hemi V8-engined Dodge Challenger Hellcat is simply shocking. That means it's packing more power than many supercars, and with the optional paddle-shifted eight-speed auto gearbox, the Hellcat races to 60mph in just 3.6 seconds.
In true Muscle Car style it's cheap too – at least compared to those Supercar rivals – with the sticker price starting at just over $64k. That translates to just £44k in our money, although the Hellcat isn't officially sold over here.
Don't think the above sounds extreme enough? Neither did Dodge, as it made a limited-run Challenger 'Demon' which produces a colossal 829bhp. To make the most of the power Dodge supplied Demons with huge drag racing-inspired tyres and two keys – one for everyday use (that actually limits an engine's power) and one for maximum speed.