1949 Oldsmobile Rocket 88 - best muscle cars
The Oldsmobile Rocket 88 is often credited with being the original muscle car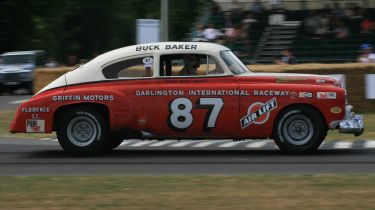 The Oldsmobile 88 hit showrooms in 1949, and might have been fairly unremarkable had Oldsmobile's engineers not fitted it with a powerful V8 engine originally destined for its bigger saloon cars.
That's the reason many muscle car fans deem the Rocket 88 to be the first of the muscle car breed, although in spite of its high-tech for the time high-compression V8, the performance was hardly earth-shattering by later muscle car standards.
The 303 cu inch (5.0-litre) Rocket V8 produced around 140bhp, but that was enough in 1949 to make the relatively compact and lightweight 88 a force to be reckoned with on the NASCAR race circuit. It won six out of nine races in its first year of competition, and is a worthy addition to any Muscle Car hall of fame.