1967 Chevrolet Camaro Z/28 - best muscle cars
Chevrolet's answer to the Ford Mustang, the Camaro is a classic muscle car in its own right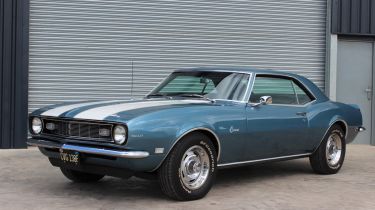 The Chevrolet Camaro was produced in answer to the runaway success of the Ford Mustang, which had been launched in 1964. Arriving three years later, the Camaro was a sporty coupe and convertible based on the Chevy Nova platform, but with some meaty engine options including a 396 cubic inch V8 making up to 375bhp.
There were racy RS and SS option packs that included a blacked–out grille with concealed headlamps, simulated air intakes and 'bumble bee' striping, but performance purists could opt for the Z/28 package which added serious chassis mods designed for racing versions.
The Z/28 goodies included disc brakes at the front, a heavy-duty four-speed manual transmission, upgraded suspension and racing stripes. It came as standard with a lighter-weight 302 cubic inch (5.0-litre) small block V8 making 290bhp, but could also be ordered with a 396 cubic inch (6.5-litre) big block.