1971 Plymouth Hemi 'Cuda - best muscle cars
Plymouth's Barracuda became a muscle car legend with a Hemi V8 plumbed in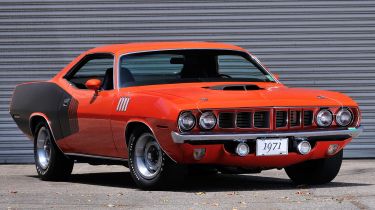 The Plymouth Barracuda was introduced a couple of weeks before the Ford Mustang in 1964, but while the Mustang rival also featured sporty styling and affordable prices it spent most of its life in the more popular Ford's shadow. Apart that is, from the legendary Hemi-powered 'Cuda model which is one of the most desirable muscle car models from the classic era.
Introduced in 1970, the Hemi 'Cuda featured a 426 cubic inch (7.0-litre) V8 making 425bhp, and was good for 0-60mph in 5.6 seconds. It looked the part too, with a range of cartoonish colours and a 'shaker hood scoop' poking through the bonnet to help force air into the engine.
The model was withdrawn in 1971 after just 115 examples had been sold, because Plymouth didn't want to strangle its legendary Hemi V8 to meet new emissions regulations. Nowadays the Hemi 'Cuda is highly collectable of course, with the rarest convertible versions selling for millions of dollars.