1968 Chevrolet Corvette L88 - best muscle cars
More of a sports car in the eyes of some, the Chevy Corvette L88 still ticked many muscle car boxes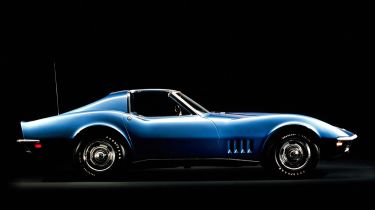 Conceived as a bone-fide home-grown sportscar to rival European imports, the two seat Chevrolet Corvette may not fit the muscle car tag for many US enthusiasts. But to the rest of the world the car's big block V8 engine options and affordable price tag made it a prime example of the breed.
The Mako shark-inspired Corvette C3 Stingray arrived in 1968 at the peak of the muscle car era, and included an L88 big block engine option designed primarily for racing. The 427 cubic inch (7.0-litre) V8 had an advertised horsepower of 430bhp, but many believe production models actually escaped from the factory with upwards of 550bhp. Other L88 upgrades included a heavy-duty four speed manual gearbox, uprated brakes and suspension, and deletion of the air con, heater and radio options.
In racing trim, the L88 Corvette would hit 171mph at Le Mans, and although GM had to offer it for sale to the public to meet racing rules it was never actively promoted as a road car. That's why fewer than 200 examples were ever sold.