1964 Ford Fairlane Thunderbolt - best muscle cars
The Ford Fairlane Thunderbolt was a street-legal drag racer with a mighty 7.0-litre V8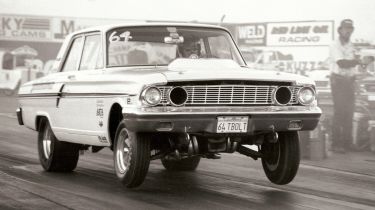 Another extreme rarity inspired by the need to win at the track, the Ford Fairlane Thunderbolt was a stripped-out drag racer that mated the lightweight (relatively) and compact Ford Fairlane body with the meaty 427 cubic inch (7.0-litre) V8 race engine developed for the bigger heavier Ford Galaxie NASCAR racers.
The Galaxie was too heavy to be competitive on drag-strip acceleration runs, but the Thunderbolt solved that problem for Ford by winning the National Hot Rod Association's Super Stock championship in 1964.
According to Ford's official documentation, the Thunderbolt was rated at 425bhp in its standard race-prepared spec. Unofficial estimates put that figure closer to 600bhp – and performance was further improved by lightening the car with plastic windows and glass-fibre doors, bonnet and wings.
The best bit? The Thunderbolt was technically street legal, although Ford riveted a disclaimer to the inside of the glovebox stating the model's fit and finish was not up to normal road car standards. Just 100 examples were built in 1964.