1970 Plymouth Road Runner Superbird
It's remembered primarily for its rear wing but the Plymouth Road Runner Superbird had much more to offer than that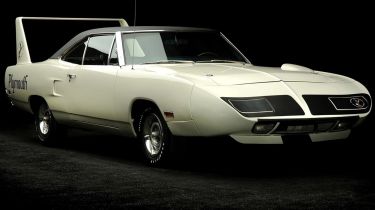 While most Muscle Cars were designed for drag racing – or at least the traffic light grand prix – other notable examples owe their existence to circuit racing. The Plymouth Superbird was arguably the most famous, even before it took one of the starring roles in the Pixar smash hit movie Cars. That pointed nose and sky-high rear wing were designed to cut through the air and make the car a front-runner in Nascar.
The Superbird, and its sister car the Dodge Charger Daytona, was essentially a stock car racer developed from the Plymouth Road Runner, and sold to the public because Nascar's rules in 1970 stated 1,920 examples had to be road registered to allow it to compete. (The rule was two cars for every dealer in a manufacturer's US sales network.) The car's shape was developed in the wind tunnel, but while the tall rear wing looks like it's meant to cut through clean air, it's height was actually determined by the necessity to get the bootlid open!
There were three engine options ranging from a 375bhp 440 cubic inch (7.2-litre) V8 to the famous 426 cubic inch (7.0-litre) 'Hemi' making 425bhp. Ironically, while the most powerful Superbird would do 0-60mph in 5.5 seconds, its regular Road Runner stablemate was quicker off the line, because the Superbird's steel nose and gigantic rear wing added so much weight. In full race tune though, the aerodynamic additions helped the Hemi Superbird top 200mph. Nascar changed the rules in 1971, limiting engine size that effectively neutered the benefits of the Superbird's aerodynamic shape, so Plymouth cancelled the Superbird after a year on sale.
While the Superbird's divisive shape meant some cars remained unsold for a couple of years, today it's seen as a hugely desirable model of the Muscle Car era, and cars frequently sell at auction for six-figure sums.