1965 Shelby Mustang GT-350 - best muscle cars
The Ford Mustang is a muscle car icon and the Shelby versions are the ones to have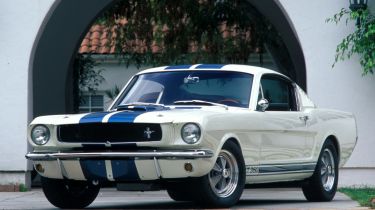 The Ford Mustang 'pony car' took the US by storm in 1964, selling two million examples in its first two years for production. In spite of its sporty two-door styling most of its underpinnings came from more mundane Ford saloon cars, and the most popular engines were asthmatic straight sixes.
A 289 cubic inch (4.7-litre) V8 was soon introduced with up to 271bhp, but it's the Shelby GT-350 versions of those early cars that really get collectors fired-up. Painted in trademark Wimbledon White with blue stripes along the sill panels, the cars were uprated by legendary Le Mans 24hrs winning driver, and AC Cobra originator Carroll Shelby. As well as a power hike to 306bhp, the Mustang GT-350 featured a side-exiting exhaust system, uprated brakes and suspension, and had a spare wheel mounted where the rear seat should go, making it eligible for sports car racing.
Just 562 examples of the earliest Shelby Mustang were built in 1965, and the Shelby GT-350 models that followed in 1966 to '68 were more luxuriously equipped and less race-focused. Somewhat notoriously, car rental firm Hertz offered the GT-350H on its fleet of hire cars. These special models came in black with gold stripes, and stories of weekend rentals coming back with spot welds where roll cages had been installed and removed for racing have gone down in muscle car folklore.